---
Paul Stockford, Research Director, NACC and Chief Analyst, Saddletree Research, Paul.Stockford@nationalcallcenters.org

This month we meet Diane McCarty, Director, Direct Sales and Customer Service at Things Remembered in North Jackson, Ohio. Things Remembered is the nation's largest retailer of personalized gifts and a name likely familiar to all readers. Diane is a volunteer NACC member and an active participant in community discussions.

In this feature Diane shares a customer experience that stopped me in my tracks when I read it. I'm willing to bet that most of you will have the same reaction. Please take the time to read about this moving customer service experience.

NACC: How and when did you begin your customer service career?

DM: I began my career many years ago (too many years to mention here!), in retail sales and customer service while attending college. I started as a part-time, seasonal employee in one of our Things Remembered stores, and worked my way up the ladder. I knew early on that I loved the business, our customers, our products and the opportunity to grow.

NACC: What is your role at Things Remembered?

DM: In my current role, I am responsible for inbound sales, customer service and overall operations in our Sales Center, overseeing our Business Accounts Team and setting strategy for the B2B segment of our business and providing support to our retail organization through order fulfillment and customer support.

NACC: Do you support both on-line and brick-and-mortar retail customers?

DM: Yes, my team has responsibility for providing customer support regardless of channel. We are moving to an "omni-channel" approach to our business and we want the customer to be able to purchase and be serviced wherever they choose; in-store, online, by phone.
There is so much pre-shopping online that results in an in-store purchase-we have to be closely aligned in all aspects of our operations as they relate to the customer's experience.

NACC: What do you find most challenging about running a contact center organization in the retail industry?

DM: What I find most challenging is also what I find most exciting, and that is the amount and the speed of change. To be successful in retail you are constantly reading and reacting to your customer's shopping patterns. As more and more shopping shifts online and away from brick and mortar, we are always looking for ways to differentiate ourselves from the competition and leverage our competitive advantage of 650 store locations. The constant change in our online and in-store products, promotions and operations requires us to continuously train and update our team. Ensuring that each of our representatives has the information they need to effectively assist our customers can be a challenge!

NACC: Is there a career best or career worst customer experience that comes to mind?

DM: Very recently we assisted a customer who is terminally ill, with his selection of engraved gifts for his wife, children and loved ones. He purchased wedding anniversary gifts for his wife to be opened over the next 10 years, and birthday gifts for his children to be opened in the future. The conversation went on over a period of weeks as he selected each gift and customized each engraved message. Our entire team was affected by the circumstances of his purchase. We took up a collection and contacted his wife to obtain a family photo and we had a custom canvas wall art piece created for them. Our customers amaze us, and their stories sometimes change our lives.


NACC: What sparked your interest in the NACC?

DM: The amount and the caliber of the data that the NACC provides are superior. When needing to research a specific topic or gather information I found myself drawn to NACC. I enjoy the newsletters and find them very relevant. I also enjoy the rather "personal touch" that comes with this organization.

NACC: What do you like to do when you're not at work?

DM: I play outside! I enjoy gardening, and I love to get my hands dirty. I enjoy the quiet of the garden and LOVE the immediate gratification after I've spent a few hours at work in the yard. After so much interaction at work, it's restorative to just be quiet!

NACC: Any advice for people just starting their customer service career?

DM: It takes a special person to be successful at customer service. You have to choose it and want it. There is no substitute for experience, roll up your sleeves and pay your dues. Learn from those around you who are successful. Ask questions and push yourself to always be looking for ways to add value to your organization. In my opinion, genuinely caring about your customer and their outcome is most important. As Maya Angelou said "I've learned that people will forget what you said, people will forget what you did, but people will never forget how you made them feel."
---
Lori Fraser, Strategic Contact, Inc.
lfraser@strategiccontact.com
Change is constant in every contact center. Organizational structure, processes/policies, technology, channels, staff, products – whatever your center focus (e.g., sales, customer service, help desk support), something is about to change. Here's a quick guide on how to build agent buy-in as you roll out the next new "thing."
Activities in the Change Management Process

How to Make them a Reality in your Center

Raise center-wide understanding of the need for change

Share why the change is beneficial to the company and customers using a variety of communication channels such as:
Newsletter updates
Town hall meetings
Stand up team meetings
And deliver some meaningful messages such as:
KPI trend line and impact analysis
Customer quotes or recordings from quality monitoring (QM) or Voice of the Customer (VoC), customer letters, and/or social media posts
Agent feedback from a pilot or focus groups

Appeal to self-interest and team pride

Address what's in it for the individual and the team through:
Balanced coaching sessions for individuals
Collaborative team meetings

Provide training on the change

Educate and transfer knowledge across the center through:
Agent specific training with skill steps on how to use a new technology, process, or policy
Management specific training on how to coach agents for compliance, linking the discussion to working agreements, skill competencies, and KPIs
Support functions that help verify compliance and tie to QM, VoC, and reporting and trend analysis

Reinforce key messages and learnings

Practice, practice, practice using:
Adult learning techniques so participants see, say, do, review, and do again to form habits
One-on-one coaching sessions with role-playing
Team meetings with "how to" tip sharing and examples
On-line interactive role-based scenarios

Track progress towards your goals

Elevate visibility on initiative-specific KPIs through:
Weekly agent, team, and center KPI tracking and trending
Proactive actions when KPIs indicate activities are working at cross-purposes or there is a need for additional training or coaching
Meaningful celebrations as the agents achieve success
Keep in mind two key points:
Everyone plays a part. Make sure roles and responsibilities are clear from Executive sponsor to center management, agents, and support team functions.
Everyone has accountability for project implementation and ongoing success. Periodic progress reports build momentum one step at a time toward successful transition… and the celebration!
By sharing the reasons for change and providing an open and collaborative structure to engage it, you'll increase the odds of bringing positive results for customers, the company and, most importantly, your agents, the heart of your center.
---
Summer Volunteer Membership Drive
Paul Stockford, Research Director, NACC and Chief Analyst, Saddletree Research,

Paul.Stockford@nationalcallcenters.or
g

If you'd like access to the reports on the NACC website, solicit advice from and share information with other NACC community members, and be in on business opportunities as they become available to us, consider joining the NACC as a volunteer member.

Volunteer memberships are provided at no cost in exchange for 30 minutes of your time during the one year membership period. All we ask of our volunteer members is to participate in our surveys, which typically take four minutes or less to complete. In 2012 we ran a total of three surveys. In 2013 we only ran our annual survey at the end of the year. This year we have done one survey that took about three minutes to complete. As with our regular memberships, volunteer members must be employed in a contact center in a supervisory or management capacity.

NACC membership gives you access to reports, our Job Board, business opportunities as they come to us, and the opportunity to tap into the membership network for inquiries, advice and review. We promise to ask for no more than 30 minutes of your time in total to participate in our brief surveys during the course of the year. It's a great deal.

Remember, the NACC is a 503(c)(6) not-for-profit organization so we don't have the resources that the marketing companies disguised as industry organizations have. Your participation in the NACC is vital to its success. If you'd like to join us, send me an e-mail with the word "Volunteer" in the subject line and I'll set up your membership. If you have questions don't hesitate to contact me.
---
Paul Stockford, Research Director, NACC and Chief Analyst, Saddletree Research,

Paul.Stockford@nationalcallcenters.or
g

It's been a busy month for the contact center industry in the media. During the first week of the month I was interviewed for stories about the industry that ran in the Detroit Free Press and in the Philadelphia Enquirer newspapers. But, as we all know, true fame doesn't come until you're on the radio or TV.

Last week I was interviewed by Kate Davidson, a reporter with the Marketplace program on National Public Radio. The conversation wandered over to social media in the contact center and I suggested that Kate speak with NACC member Kymberlaine Banks, who is the social media manager at Telvista in Dallas.

As is typical with radio, an hour of interviews was whittled down to less than two minutes. If you have one minute and 22 seconds to spare, here's a link to the radio story featuring Kymberlaine and me.

http://tinyurl.com/mbjz46q

We're on our way, Kym. Can fame and fortune be far behind?
---
Paul Stockford, Research Director, NACC and Chief Analyst, Saddletree Research,

Paul.Stockford@nationalcallcenters.or
g

I only tweet about industry events, like our big radio debut, and important industry trends, issues and information. I won't waste your time and I value your insights. I'm

@paulstockford

on Twitter.
Call Center Comics!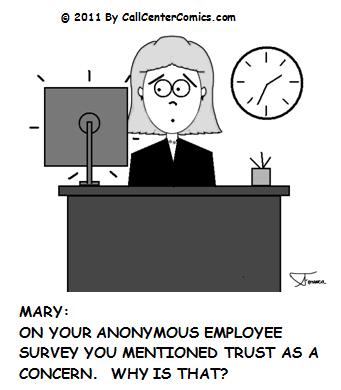 If you like this comic and would like to see more, write Ozzie at callcentercomics@yahoo.com and visit his website at http://callcentercomics.com/cartoon_categories.htm or just click on the comic to take you to his page. The NACC appreciates Ozzie letting us use some of his comics in our newsletter.
---
To view past issues of In Queue, please click here.

If you would like to contribute to In Queue, please reply to this email with "Contribute" in the subject line.
Copyright 2014 National Association of Call Centers