---
Paul Stockford, Research Director, NACC and Chief Analyst, Saddletree Research, Paul.Stockford@nationalcallcenters.org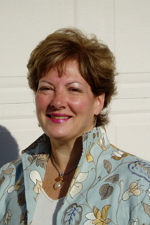 In this installment of "Meet the Members", we take a slightly different direction in order to introduce you to someone whose name you have seen in In Queue newsletters many times over the past few years. Lori Fraser is a senior consultant with Strategic Contact and a regular contributor to this newsletter. We thought you might like to get to know better the person behind the name you frequently see in the author's byline.

NACC: What is your role at Strategic Contact?

LF: Senior Consultant

NACC: How long have you been doing consulting work?

LF: I joined Strategic Contact in March 2007. Prior to joining the firm, I spent 20 years leading sales, customer service, and technical support teams in contact centers. I've "been there, done that."

NACC: What do you find most challenging about your chosen profession?

LF: Strategic Contact frequently gets called in as the impartial expert when siloed teams are dug into fundamentally different positions, or staff don't feel empowered to deliver critical messages to executives. Since these situations can be emotionally charged, we've got to be as sensitive to the politics as we do the business issues at hand.

NACC: What do you find most rewarding about consulting in the contact center industry?

LF: I love helping clients align strategy, goals, and actions to achieve desired results. It's especially gratifying when I can be a catalyst to bring agents, supervisors, and team managers together in a way that honors each of their perspectives, leverages their experience, and builds momentum for success. On any initiative, the people side of the equation is just as important as the project side. Their success is our success.

NACC: Any best/worst customer service experiences you'd like to share with NACC readers?

LF: One of my "best" views of customer service is how my preferred airline keeps me updated with automated calls and messages regarding delays or flight changes allowing me to stay informed and reducing inbound volumes on their call center. If needed, I can quickly access the contact center for rescheduling assistance.

One of my "worst" experiences occurred recently on a trip where I had one of those awful travel days we've all experienced. When the post-trip airline survey arrived I shared the situation and I requested a return contact on a particular issue. When no one contacted me from the contact center the customer experience moved from bad to worse. Best-in-Class contact centers understand delivering an excellent customer experience means exceeding customer expectations, prompt follow-up and follow-through on commitments, and consistency in a positive customer experience across all channels. If one channel fails to deliver to company standards, the contact center needs more than ever to excel in customer follow-up, capturing customer feedback and taking action for continuous improvement in the overall customer experience.

NACC: What do you like to do when you're not at work?

LF: When not at work, you'll find me at the beach. The Oregon coast is beautiful, rugged, and captivating. Walking on the beach, breathing in the fresh air, and listening to waves helps me keep everything in perspective.
---
Paul Stockford, Research Director, NACC and Chief Analyst, Saddletree Research,
Paul.Stockford@nationalcallcenters.org
The one constant in the contact center industry is change. Over the past several months, we've seen some of our volunteer members change employment or move on, leading to vacancies in our NACC volunteer member group. Because of this unexpected turnover, we're shoring up our volunteer member corps with a membership drive. Becoming a volunteer NACC member is easy.

Volunteer memberships are provided at no cost in exchange for 30 minutes of your time during the one year membership period. All we ask of our volunteer members is to participate in our surveys, which typically take four minutes or less to complete. In 2012, we ran a total of three surveys. In 2013, we only ran our annual survey at the end of the year. Last year, we didn't even ask for 30 minutes of volunteer time!

NACC membership gives you access to reports, our Job Board, business opportunities as they come to us, and the opportunity to tap into the membership network for inquiries, advice and review. We promise to ask for no more than 30 minutes of your time in total to participate in our brief surveys during the course of the year. It's a great deal. If you'd like to join us, send

me

an e-mail with the word "Volunteer" in the subject line and I'll set up your membership. If you have questions don't hesitate to contact

me

.
---
Lori Fraser, Senior Consultant, Strategic Contact,
lfraser@strategiccontact.com
For powerful advice on transforming your contact center culture, we turn to one of America's most celebrated authors, Theodor Geissel (a.k.a., Dr. Seuss). He said, "Fun is good."

The best contact center reps are highly social individuals who love interacting with people, yet have little time for bonding with their fellow reps. In fact, they have little time to do much of anything except absorb their training, boost their occupancy, and lower their AHTs. So if you want to get them on board with initiatives or change that requires something above and beyond the call of duty, think of creative and fun ways to grab their attention and inspire action.

Add Pizzazz to Process
To begin, communicate the specific business reasons for change through informing, incentivizing and/or recognizing.

Informing covers the Who, What, Where, When and Why associated with the initiative or desired change. Incentivizing involves driving engagement through monetary and non-monetary methods to entice people to participate in an initiative, training, or to stay around. Recognizing allows reflection on healthy competition or accomplishments such as reaching much sought after key performance indicators, certifications, or project milestones. Recognition is also great after making it through a tough period associated with peak season, product recall or parts shortages, or logistics snafus, all of which drive higher than usual or planned volumes for CC staff to cover.

Pulling these three concepts together could look like a town hall meeting with posters of your informing message. Add some balloons, music and food to entice them into learning more and participating in the initiative, followed by periodic recognition of individual or team achievement in the journey. Together these are powerful tools in your contact center management toolkit to drive change within your center.
Take Fun Seriously
Making things fun in your center doesn't happen with the wave of a wand. Here are four key steps to success:

#1: PLAN AHEAD.
Be sensitive to the center's coverage needs and coordinate across centers. Consider timing. Waiting to the last minute (or last 30-120 minutes) to plan can cause things to go awry. For example, waiting until the last minute to inform West Coast staff in a multi-site center that pizza is on the way can leave East Coast agents with a bad taste in their mouth, raising morale in one location, yet decreasing it in another.

#2: STAY TRUE TO YOUR CORPORATE CULTURE.
What is delivered needs to take into account corporate goals and messages – such as wellness – as well as a link to your program or initiative message. You also need to know what works for your center and stick with it. For example; donuts to a center with a weight watcher's program or high health issues doesn't really say "we care." Throwing some pizza into the breakroom, but not allowing any time for agents to enjoy it before telling them to get back on the phones sends a contrary message. However, fresh fruit every Wednesday during a program rollout or peak season does say "we thought of you and we care."

#3: EXECUTE IN EXCELLENCE.
The reps will take note of the effort you put into the event. If you don't care very much about the event, why should they care about what you have to say? There's nothing worse than planning a party and the food is late or cold – or worse, gone! The celebration or enticement loses energy and your "Negative Nancy's" get a chance to spin your efforts into a completely different intent.

#4: DON'T BE THE "ONE-EVENT WONDER."
Creativity drives success. Develop a committee of front-line staff and include support staff from Quality and Workforce as well as HR to monitor the success of events, impact on productivity and results. For best results, avoid duplicating themes of events too close to one another.

Successful centers use more than just pizza in the breakroom to engage and motivate agents. Add pizzazz and fun to initiatives for greater success in your center!
---
Paul Stockford, Research Director, NACC and Chief Analyst, Saddletree Research, Paul.Stockford@nationalcallcenters.org

The February 2014 issue of Contact Center Pipeline magazine contains an outstanding article detailing contact center compensation trends and issues. The article also discusses non-cash recognition programs as well as cash incentive plans. This is an article worth reading.

Some of you may be aware that I write a monthly column called "The View from the Saddle" in Contact Center Pipeline magazine. Although the magazine is usually available by paid subscription only, I contacted Editor Susan Hash who agreed to provide digital subscriptions to NACC members and subscribers at no charge during the month of March. All you need to do is enter the promotional code NACC at checkout in order to receive your free electronic subscription.

Once your subscription is active, be sure to access the article entitled "Contact Center Compensation." And while you're at it, take a look at my column and find out why Analytics Rule!
---
Paul Stockford, Research Director, NACC and Chief Analyst, Saddletree Research,
Paul.Stockford@nationalcallcenters.org
If you're wondering what the big deal about the cloud is, take ten minutes to listen to this podcast I did with Ron Strandin, CEO of Envision. We pack a lot of information into a very short time, including a discussion of the reasons behind the emergence of the contact center in the cloud and advice on what to look for when you start shopping for your own contact center cloud solution.

We know you don't have hours every week to spend attending each webinar you're invited to, so we offer our podcasts as an alternative. These podcasts offer you the opportunity to learn something interesting and stay current with industry trends in about the time it takes you to drink a cup of coffee at your desk – about ten minutes.

To download the "Contact Center in the Cloud" podcast, please visit

http://www.saddletreeresearch.com/podcasts.html

.
NACC researchers at the Call Center Lab at The University of Southern Mississippi have released third and fourth quarter 2013 employment statistics for the U.S. contact center market and the numbers show continued positive growth for the industry. Net gains in contact center employment occurred in both quarters with net growth of 15,654 jobs in the third quarter and 12,503 jobs in the fourth quarter for a total net gain of 28,157 jobs.

Contact center employment in 2013 was significantly and positively impacted by the ramp up of the Affordable Care Act (ACA) and the customer service requirements that accompanied it. This ramp-up in customer service staffing became apparent in the second quarter of 2013 as health care exchange providers dominated the top ten organizations adding contact center positions during that quarter. Similarly, third quarter employment numbers were positively dominated by hiring in support of the ACA. As ACA hiring slowed during the fourth quarter of 2013 so did contact center employment but growth remained impressive as noted above.

Figure 1 below illustrates contact center industry employment growth per quarter since the first quarter of 2010. The graph illustrates that the post-recession industry employment roller coaster likely ended with the first quarter of 2012. Employment growth has been relatively stable since that time. We expect the upward trajectory of industry employment growth to continue throughout 2014.

Figure 1: U.S. Contact Center Industry Employment Growth 2010 – 2013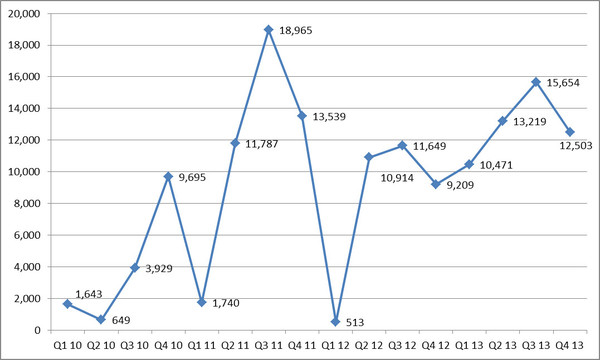 Source: National Association of Call Centers
March 2014
---
Call Center Comics!

If you like this comic and would like to see more, write Ozzie at callcentercomics@yahoo.com and visit his website at http://callcentercomics.com/cartoon_categories.htm or just click on the comic to take you to his page. The NACC appreciates Ozzie letting us use some of his comics in our newsletter.
---
To view past issues of In Queue, please click here.

If you would like to contribute to In Queue, please reply to this email with "Contribute" in the subject line.
Copyright 2014 National Association of Call Centers