Meet The Members
Paul Stockford, Research Director, NACC and Chief Analyst, Saddletree Research, Paul.Stockford@nationalcallcenters.org

This issue kicks off a new monthly column that features information about one of our National Association of Call Centers members. This is where you'll learn a little bit more about the other NACC members are and perhaps find synergy, if not sympathy, with your peers.

Our first entry features long-time NACC volunteer member Barb Bleiler, Director of Member Services at WPS Health Insurance. Look for Q & A with a different NACC member in each upcoming monthly issue of the In Queue newsletter.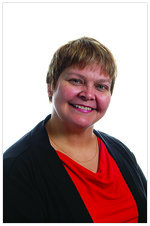 NACC: Barb, when did you begin your career in customer service?

BB: I began my career as a customer service rep here at WPS in the early '90s. From that first agent job I moved into several different roles over the years but I was always involved in the customer service function in one way or another.

NACC: What is your role at WPS Health Insurance today?

BB: I'm Director of Member Services. I have responsibility for overseeing the contact center and the administrative office, which is responsible for billing and member enrollment.

NACC: Why did you choose a career in customer service?

BB: I've always believed that good customer support is the cornerstone of any business, so customer service was the best area for me to look for a career. The contact center was the natural place for me to focus those efforts.

NACC: What particular challenges is your customer care group facing given the changing health care industry in the U.S.?

BB: Where do I start? We're not getting a lot of guidance from the government about how health care exchanges are to be operated, or even how they are to be set up. It's like trying to build a house without knowing how big or what dimensions the house can be. We know that the house is going to have to have rooms, but so far we don't know how many rooms we should put in the house plans. We're still waiting for the plans to arrive, but we know we have to have everything ready to go on January 1st. We're making a lot of assumptions and we think that a lot of decisions won't be made until after the program goes live.

NACC: Looking back over your career, do you have a favorite best or worst customer service experience story?

BB: That has to be the story of the first customer phone call I ever took. I had just finished training and was really excited to take my first call. I connected to that first customer and the first words I heard him say were, "I hope you're ready because I'm about to put you through h***!" He wasn't exaggerating, he really did! I ended up in tears and had to get my supervisor who, it turned out, knew exactly who the caller was. It was awful, but I stuck it out and finished up the call. When it was all over and I was drying my tears the supervisor came over and suggested I take a break, which I did. The bottom line is I lived through the experience and went back to taking phone calls, but that was a heck of a way to start!

NACC: What drew you to the NACC?

BB: It was when I met you at the Call Centre Canada conference in 2008. I was on your 60 Ideas panel. I hadn't heard of the NACC until then but when we met I was intrigued with what you and David (executive director David Butler) were doing. I gave you my card and joined as a volunteer. The rest is history.

NACC: Any advice for people just starting their customer service career?

BB: Treat your customers the way you would want to be treated. That's really all anyone wants.
---
Protect Frontline Supervisors From "Other Duties As Assigned"
Dee Kohler, Consultant, Strategic Contact, Inc.,

dee@strategiccontact.com
Supervisors are the Contact Center's Most Valuable Players. Because they're seasoned front-line specialists, they are your "go to" resource to address the most challenging and/or complex tasks. They are resourceful, critical thinkers when you need input on people, process, and technology initiatives. Their breadth of knowledge and experience help marketing and corporate communications develop effective campaigns and messaging. HR and others tap them for a host of administrative and project tasks. Corporate and IT initiatives require participation from many areas, and Supervisors are often the contact center's representative to these projects.

But wait! Isn't a Supervisor's primary job developing and coaching front-line staff?
Call a Time Out
It should be! You'd be surprised how often that primary responsibility gets reduced to an "in my spare time" task. See for yourself. Call a time out and ask your Supervisors to track the time they spend on the following activities for a week:
Coaching and Development (e.g., team meetings/huddles, side-by-side call monitoring, formal coaching, career development discussions, etc.)

Customer Contact Handling

Escalation Calls from customers

Systems issue tracking (IT/IS)

Administrative Tasks (HR, WFM, QA, etc.)

Meetings outside of team huddles (e.g., management, peers, other departments)

Special Projects (internal and external to contact center)

Other (ask for specifics)
Gather the results and determine how much time your frontline supervisors are actually spending on various tasks both within the Contact Center and for other departments.
Have a Game Plan
Supervisors should be spending at least 50% of their time on coaching and developing. How do your Supervisors measure up?
If they're falling short, it's time to identify the "time moochers" and find ways to let your organization leverage the Supervisor's wisdom while enabling them to continue to focus on their primary role. After you know what your Supervisors are spending their time on, sift through the results to begin reclaiming coaching and development time.
Identify all non-coaching and non-development activities

Separate the activities into contact center and "other department"
You have autonomy in the Contact Center and can work on creative solutions including proper delegation and assignment of tasks. With "other departments," it may require additional education about the differences of the supervisor role in a Contact Center versus other departments. Take the time to educate. It will be worth it when the time comes that you have to say "no" to a request for a resource and your peers will understand why.
Hit a Home Run
Here are some proven strategies to put more coaching time back on the clock and protect frontline Supervisors during the game:
Educate all parties on the importance of coaching and development (including IT, Marketing, Sales, etc.)

Communicate resource availability on a frequent basis at cross-functional meetings

Rotate frontline supervisors available for other department efforts (projects, meetings, etc.)

Offers all frontline leadership staff equal opportunity and evens out time demands

Mitigates the agent response of, "My supervisor is always in meetings."

Develop an internal policy that all requests of resources need to be funneled through the contact center manager/director

Reinforce with the frontline supervisor team, as well as other department leaders

Track and monitor the frontline supervisor task utilization to make adjustments as needed
When coaching takes a back seat, Supervisors can get caught in a downward spiral of daily crises and firefighting – something that effective front line staff coaching prevents! Before you find yourself slipping into that downward spiral, call a time out to understand where your supervisors are spending their time and develop a game plan to hit a home run for your frontline supervisors and agents.
---
Navigating First Contact Resolution (FCR)
Paul Stockford, Research Director, NACC and Chief Analyst, Saddletree Research,

Paul.Stockford@nationalcallcenters.org
During a recent conversation about performance metrics with NACC member Jennifer L., the subject of first contact resolution (FCR) came up. We have been tracking adoption of FCR as a performance metric in our year-end survey for the past couple of years. In that short period of time, the use of FCR in the contact center has grown significantly.

According to the results of our most recent survey, 58.3 percent of contact centers now use FCR as a performance metric. For many contact centers, FCR is replacing such key performance indicators (KPIs) as average handle time (AHT) as the value of solving a customer service issue in one call is proving to be greater than the value of getting one customer off the phone as soon as possible so another can be helped.

Similar to many of the new performance metrics that are being adopted by contact centers throughout the U.S., there is no standard means of measuring FCR today. Customer service executives are being left to their own devices to measure FCR success, which led us to ask the question how FCR was being measured. The responses to this question are summarized in the figure below.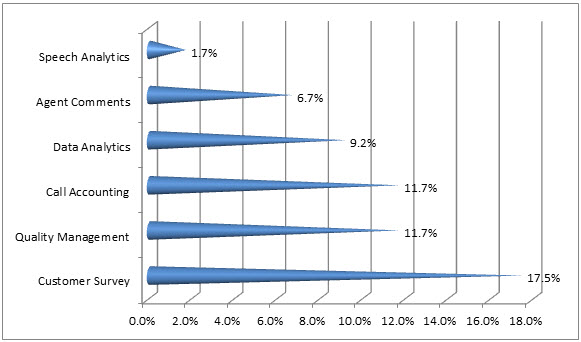 Source: NACC August 2013

Customer survey is clearly the preferred method of measurement at this early stage of FCR adoption despite the fact that this is one of the most tedious methods of gathering data. Most customer service professionals will agree that getting customers to take the time to complete a post-contact survey is difficult at best. As a result, data will often be sporadic and inconsistent.

Quality management is a time-tested and widely accepted method of determining levels of agent performance and customer satisfaction, but the random-sample nature of the quality management process unquestionably leaves a lot of usable data on the table. Call accounting can capture automatic number identification (ANI) information and track the number of times a person calls the contact center but it can't determine the reason for each call. Managers have to rely heavily upon assumptions when using call accounting as a FCR measurement tool.

We believe that analytics will begin to take a greater role in the measurement of FCR in the future. Speech analytics captures virtually all detail of every customer call and can be analyzed to determine issue resolution. Similarly, text analytics can be used to evaluate text-based customer interactions such as e-mail, web chat, and social media postings to determine issue resolution. We expect to see the use of analytics as a FCR measurement tool increase dramatically over the next three years.
---
New Research Report Available For Download: "Workforce Optimization For Small-To-Medium-Sized Contact Center
Paul Stockford, Research Director, NACC and Chief Analyst, Saddletree Research,

Paul.Stockford@nationalcallcenters.org
I recently completed a research report that covers the use of workforce optimization in the small-to-medium sized contact center. The report's introduction can be found below:

Introduction

The small-to-medium sized enterprise (SME) contact center represents the majority of the U.S. contact center industry today. While the lion's share of attention from technology suppliers typically goes to the larger contact center, the fact remains that the SME contact center is the lifeblood of the industry.

Saddletree Research defines the SME contact center as one with 150 or fewer seats. According to our research, conducted in conjunction with the National Association of Call Centers (NACC) at The University of Southern Mississippi, SME contact centers as defined above represent about 66 percent of all U.S. contact centers.

Despite its numerical domination of the industry, the SME contact center has long been underserved by the technology supplier community. While part of the responsibility for this situation lies with the vendors who tend to focus on the higher profit margins offered by large system sales rather than supplying comparable solutions to smaller businesses, this circumstance can also be attributed to the SME contact centers themselves.

This report is available to all NACC members for download at the website,

www.nationalcallcenters.org

. All you need is your user name and password to access and download the report in its entirety.

What? You want the report but you're not a member yet? Keep reading!
---
Volunteer Membership Drive Continues
Paul Stockford, Research Director, NACC and Chief Analyst, Saddletree Research,

Paul.Stockford@nationalcallcenters.org
Due to some recent changes in employment that has led to member turnover, we're shoring up our volunteer member corps with a summer membership drive. Becoming a volunteer NACC member is easy. Volunteer memberships are provided at no cost in exchange for 30 minutes of your time during the one year membership period. All we ask of our volunteer members is to participate in our surveys, which typically take four minutes or less to complete. In 2012, we ran a total of three surveys. In 2013, we have yet to run a single one! That will likely change during the summer as we gear up our research efforts, but we still promise to ask for no more than a total of 30 minutes of your time during the year.

NACC membership gives you access to reports, our Job Board, business opportunities as they come to us, and the opportunity to tap into the membership network for inquiries, advice and review. We promise to ask for no more than 30 minutes of your time in total to participate in our brief surveys during the course of the year. It's a great deal. If you'd like to join us, send me an e-mail with the word "Volunteer" in the subject line and I'll set up your membership. If you have questions, don't hesitate to contact me.
---
Call Center Comics!

If you like this comic and would like to see more, write Ozzie at callcentercomics@yahoo.com and visit his website at http://callcentercomics.com/cartoon_categories.htm or just click on the comic to take you to his page. The NACC appreciates Ozzie letting us use some of his comics in our newsletter.
---
To view past issues of In Queue, please click here.

If you would like to contribute to In Queue, please reply to this email with "Contribute" in the subject line.
Copyright 2013 National Association of Call Centers