What's New in In Queue
Paul Stockford, Research Director, NACC and Chief Analyst, Saddletree Research, Paul.Stockford@nationalcallcenters.org

LiveOps: Life in the Cloud. With the avalanche of industry information regarding contact centers in the cloud that seems to find its way to your e-mail inbox every day, this month we are pleased to welcome LiveOps as a supporter of the NACC's efforts to get above the shouting and bring you information presented in a reasonable and useful manner. For the rest of the year, we will be working with LiveOps to provide you with hype-free information about the realities of contact center functions that reside in the cloud. With a focus on transforming customer service in the social enterprise, LiveOps provides a multi-channel experience with on-demand scalability and state-of-the-art applications. To learn more about LiveOps, click on the banner on this newsletter.

Desktop Analytics. I first started researching and writing about desktop analytics three years ago and was fascinated by what I discovered. It seems the industry at large is beginning to gain an understanding of the benefits of desktop analytics as well since desktop analytics have shown up on the list of the top five products to be evaluated for purchase for the second year in a row. With the announcement of desktop analytics from Calabrio last month, it is a solution that is now within reach of contact centers of all sizes. For readers still not completely familiar with desktop analytics, I have written a brief analysis of how it works in this issue of In Queue - Look for it below.

Volunteer Membership Drive. Due to some recent changes in employment that has led to member turnover, we're shoring up our volunteer member corps with a summer membership drive. Becoming a volunteer NACC member is easy. Volunteer memberships are provided at no cost in exchange for 30 minutes of your time during the one year membership period. All we ask of our volunteer members is to participate in our surveys, which typically take four minutes or less to complete. In 2012, we ran a total of three surveys. In 2013, we have yet to run a single one! That will likely change during the summer as we gear up our research efforts, but we still promise to ask for no more than 30 minutes of your time during the year.

NACC membership gives you access to reports, our Job Board, business opportunities as they come to us, and the opportunity to tap into the membership network for inquiries, advice and review. We promise to ask for no more than 30 minutes of your time in total to participate in our brief surveys during the course of the year. It's a great deal. If you'd like to join us, send me an e-mail with the word "Volunteer" in the subject line and I'll set up your membership. If you have questions, don't hesitate to contact me.
---
What Do Call Centers And The General Education Development (GED) Diploma Have In Common?
David Butler, PhD., Executive Director, NACC,

david.butler@nationalcallcenters.org
On my travels around the region and country, I cannot help but look at roadside billboards. With their bright colors and often clever ads, they are a welcome distraction from the boredom of the road. Recently, I noticed the same billboard showing up with greater frequency around the Southeastern part of the U.S. These billboards feature a set of three celebrities all wearing headphones and the message was something about the GED diploma.

Since I was traveling a bit over the speed limit the first time I saw this particular billboard, I couldn't make out what the GED text was all about and I wasn't sure how this all related to celebrity contact center agents. Unfortunately, my lead foot prevented me from getting a good read on this billboard several times as I was on a recent road trip, but last week I noticed the billboard approaching and I not only slowed down, I pulled off the road and snapped a picture of it.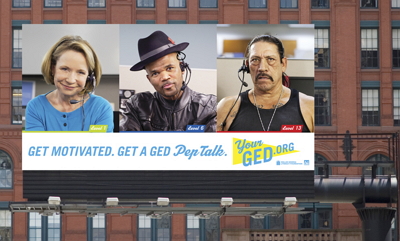 When I finally had a chance to examine the billboard in the photo, I discovered the ad was not for contact center services but was instead an advertisement encouraging people to get a GED diploma. Excuse me? How are the contact center and the GED related? This ad company has it all wrong.

We have collected contact center industry data over the past decade and a half, so we know that the typical contact center agent has a high school diploma and some college. For the most part, they are not GED recipients. To try to clear up the inconsistencies, I Googled the ad phrase, "GED Peptalk" and discovered that despite the appearance of contact center agents on the billboard, the billboard itself had nothing to do with contact centers.

The campaign is being run out of Chicago by the Ad Council. There are also television commercials associated with the "GED Peptalk" ad campaign, which you can watch on YouTube. Basically, there are 13 celebrities delivering their own unique pitch over the phone, encouraging people to get their GED. The celebrities are posing as contact center agents, supposedly responding to callers seeking advice regarding the completion of their high school education. The celebrities encourage the callers to seek a high school equivalency diploma, the GED.

What I found interesting about this campaign is that the ad company behind it apparently believes that the audience would respond well to the celebrity contact center agent interaction. If we assume that the ad is targeting a younger audience, this makes the ad even more interesting. Although the target market is more likely to turn to apps or text messaging for their communications needs, there is a trust factor that is associated with a phone conversation, especially when there is a trusted source on the other end. This not only validates the importance of the contact center today, it indicates that contact centers are an ingrained part of the general consciousness of the younger generation of the American population.
---
Text Analytics: Contact Center Solution For Everyone
Paul Stockford, Research Director, NACC and Chief Analyst, Saddletree Research,

Paul.Stockford@nationalcallcenters.org
When we refer to desktop analytics as a solution for everyone, we are not exaggerating. I suppose if we look under a few rocks, we may find a call center or two that still does not provide computer workstations for their agents, but it is unlikely. The overwhelming majority of contact center agents and management today rely on a computer workstation, or desktop, in order to do their job.

Desktop analytics provides an automated means of not only capturing what the agent is doing at his or her desktop at any point in a customer service or other transaction, it also captures how the desktop is responding. Desktop analytics provides what is essentially a time-and-motion study of what occurs on a contact center agent's desktop. By analyzing activities on the agent workstation, desktop analytics reveals the differences in skills, training, adherence to rules and motivational variances among agents. Previously identified only through random quality management recording reviews, desktop analytics ensures that every movement on the agent's desktop is recorded and analyzed.

While at first glance this may seem like yet another technology solution designed to capture agent "Gotchas" during work hours, this is not the case at all. It's true that it can be instrumental in discovering those agents who succumb to the temptation of Facebook or other off-limits Internet sites on company time, but desktop analytics identify system problems that might otherwise go unnoticed unless reported by an agent.

Besides offering coaching opportunities that can improve contact center productivity, desktop analytics reveals issues that are often undetectable. Examples of these issues include error messages on the agent desktop that disrupt service flow, problems moving applications that delay call completion, and protracted page rendering that slows the rate of service delivery. Unless reported at every incidence, these disruptive system issues often go unnoticed.

In the past, contact center supervisors, managers and executives have had to rely on monitoring technologies designed to accomplish other tasks in order to capture some of the problems and issues listed above. Given the random-by-design nature of most monitoring technologies, the likelihood of consistently recording instances of problematic issues is very slim.

Many contact centers spend a great deal of time and money recording and evaluating voice recordings and creating reports that track the performance of each agent, agent team, and the contact center as a whole. Despite the efficiencies gleaned from these monitoring and analytics solutions, money is being left on the table as more subtle performance deficiencies go unnoticed. Desktop analytics offers a means of ensuring these performance deficiencies are identified.

As with many analytics solutions, advances in platform design are bringing costs down to the point where these solutions are now available to contact centers of all sizes. Last month Calabrio (

www.calabrio.com

) introduced a desktop analytics solution that resides on their workforce optimization solution, functioning in concert with their speech analytics solution for the small-to-medium sized contact center. Advanced analytics solutions are now within the financial reach of all customer service organizations regardless of size.

The appeal of text analytics likely has to do with the fact that it can be administered and used without any special training and the results are immediate, leading to a typically rapid return on investment (ROI). It automates what is usually a labor-intensive review process and identifies performance deficiencies in both the agent population and the contact center's technology solution. As evidenced by the demand for desktop analytics revealed by our 2012 year-end survey of NACC members, it is a solution whose time has come.
---
Call Center Comics!

If you like this comic and would like to see more, write Ozzie at callcentercomics@yahoo.com and visit his website at http://callcentercomics.com/cartoon_categories.htm or just click on the comic to take you to his page. The NACC appreciates Ozzie letting us use some of his comics in our newsletter.
---
To view past issues of In Queue, please click here.

If you would like to contribute to In Queue, please reply to this email with "Contribute" in the subject line.
Copyright 2013 National Association of Call Centers