Our Contact Info:
Paul Stockford
Research Director
National Association of Call Centers
100 South 22nd Avenue
Hattiesburg MS 39401
Tel: 480.922.5949
paul.stockford@nationalcallcenters.org
www.nationalcallcenters.org
Circulation
In Queue circulation 22,166
Advertise with Us
Click on the image below to view the NACC Advertising Page where you can view our channels and prices.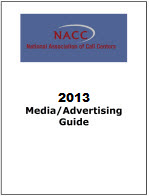 To advertise with the NACC, please contact the NACC at:
Tel: 601.447.8300
Fax: 601.266.5087
Email: paul.stockford@nationalcallcenters.org
Underwriters
All leading call center companies and suppliers should examine the NACC Underwriting opportunity in 2013 as evidence of their dedication to the growth of the call center industry. See the NACC Advertising Page for more information.
Share the Knowledge
Send this newsletter to colleagues by clicking "Forward this message to a friend".

Quote
"Actions speak louder than words, but not nearly as often."
- Mark Twain
Reports from the NACC
The NACC has been burning the midnight oil and typing until our fingers are sore to bring out reports to our members. Each is listed below. If you are interested to see what we are writing about, click on the links below and download the executive summary of each. If you like what you see, join the NACC so that you can view these reports and others that will be coming out soon on our website. These reports will ensure that you know the latest trends in the industry.
What's New in In Queue
Paul Stockford, Research Director, NACC and Chief Analyst, Saddletree Research, Paul.Stockford@nationalcallcenters.org

At Last – Webinar Relief is Here. Your days are already overscheduled. You're pulled in ten different directions at once. You're juggling and multi-tasking and now you've received your 20th invitation this week to attend a webinar. You don't have time to take yet another hour out of your week for yet another webinar. We get it, and we're here to help.

As much as we like webinars, we have an alternative for you – podcasts. You can download and listen to a podcast at your convenience, and you'll learn something in about the time it takes to drink a cup of coffee at your desk. Most podcasts are 12 minutes or less and don't require any advanced scheduling!

For those of you interested in contact center mobility and customer care for the mobile customer, give a listen to my latest podcast entitled, "The Evolving Challenge of Mobile Customer Service." Lots of survey data is shared along with insights from Cisco's John Hernandez. You can find this podcast here.

If analytics is on your list of interests, or if you're just intellectually curious about the application of analytics in the enterprise, don't miss this podcast I recorded with John Bowden of Time Warner Cable. Entitled "Applied Analytics at Time Warner Cable," this podcast will give you a quick but thorough look at the role of analytics at one of the nation's largest providers of video, high-speed data and voice services. All podcasts can be accessed at here.

Multi-Channel Customer Service Survey Results. We recently received some fascinating customer service data courtesy of a survey of 2,500 American adults underwritten by Aspect Software. The focus of the research was the measurement of customer service satisfaction levels among a statistically valid population sample. To give you an idea of respondent sentiment, 42 percent stated that they would rather stand in line at the DMV than contact a customer care center. Details of this highly insightful research can be found below. Don't skip this article!

Follow Us on Twitter. My twitter handle is pauloncc (as in Paul on contact centers). I only tweet about industry issues so you'll never have to see what I had for lunch or read about my dog's favorite chew toy. Industry news and commentary only. Follow and find out!
---
Most Customers Are Not Happy Campers:
New Aspect Software Research Puts Data Behind The Sentiment
Paul Stockford, Research Director, NACC and Chief Analyst, Saddletree Research,

Paul.Stockford@nationalcallcenters.org
New research undertaken by Ogilvy Public Relations and underwritten by Aspect Software (www.aspect.com) has verified what many customer service professionals will tacitly acknowledge; that most customers are not happy campers. Despite what can only be described as heroic efforts by many contact centers to provide a world-class service experience to their customers, the efforts often fall short. This survey of 2,500 American adults provides highly useful insights into what it takes to optimize the customer service experience.

The top three factors that create frustration on the part of customers when contacting customer service, and the percentage of respondents who cited these factors, are as follows:

Waiting a long time to reach a live agent 67%

Being directed to an automated response 67%

Repeating information multiple times to multiple people 65%

While this data confirms suspicions, it also confirms that despite incredible advances in contact center technology and management philosophy the contact center industry is still dealing with many of the same issues it has been facing for years. As a result, customer sentiment has seen very little change.

The survey revealed that 84 percent of Americans feel like they're being ignored when they wait a long time for customer service. 64 percent of Americans responded that they often feel like they're not treated like a valuable customer when they interact with customer service. 42 percent of survey respondents stated that they would rather stand in line at the Department of Motor Vehicles (DMV) than have to deal with the customer service department.

On the positive side, respondents who have contacted a customer service center feel that companies with multiple communications channels offer them better service and make the customer feel more in control. 77 percent of Americans believe that the companies that offer multiple communications channels are easier to do business with and 74 percent believe that these companies provide better service. Ironically, 63 percent of Americans feel that the telephone is still the best way to contact customer service and experience a positive interaction. So, while customers look favorably on a company that provides multiple communications channels, the telephone is still the preferred channel.

This survey illustrates the fact that as an industry, customer service still has some work to do. Despite the best efforts of management to create a positive customer experience, there are still hurdles to be negotiated on the front lines and even before the call reaches an agent. For more information on this fascinating study, or to view all the results of this research project, visit www.aspect.com.
---
Tornado + Internet + Comfortable Chair = New Purchasing Practices
David Butler, Executive Director, NACC,
David.Butler@nationalcallcenters.org
On February 12, 2013, a tornado hit Hattiesburg, Mississippi, the headquarters of the National Association of Call Centers and my home town. Though my home was not in the direct line of the tornado -- it was just two blocks away – it was damaged by the 30 foot branches that fell on the roof and created holes that allowed in the torrential rainfall.

Following the resettling of my family to an apartment and settlement negotiations with the insurance adjuster, my contractor was ready to begin reconstruction. Two weeks ago this construction began. Part of my responsibility as the homeowner was to secure the new flooring to replace the lost carpet and to secure the ceiling fans and light fixtures in the damaged rooms. After many long days of home relocation stress and work, the last thing I wanted to do was make the trip to Home Depot and the lighting store. As I was about to put on my shoes for the shopping trip, a thought struck me. Could I make these purchases without having to leave the comfort of my living room chair?

Taking my seat once again, I looked at the cell phone in my left hand and got to work. Using Google Maps on the phone I found the nearest Home Depot store and called the flooring department. Since I purchased the flooring for my home at Home Depot in 2008 it seemed to me the logical starting point for replacement flooring. I asked the sales associate on the other end of the phone if they had my flooring order from 2008 on file. Receiving confirmation that they did have my order on file and that they still sold that type of flooring, I placed an order with my credit card. Fifty percent of my errands done and I hadn't left my easy chair!

Next up was the lighting store. Finding them online and calling the nearest store, I went through the same process with them as I went through with Home Depot. They still had my 2008 lighting purchase in their database and they could still get the same ceiling fans and lights that I originally purchased. After an exchange of order and credit card information, my purchase was complete. Mission accomplished, and I didn't even have to put my shoes on.

Although these purchases are considered brick-and-mortar store sales, they are more like an online Internet sale. Ten years ago it wouldn't have dawned on me to attempt these purchases from my living room chair but the combined effects of frequent online shopping, mobile phone usage, database management and credit card acceptance are changing our shopping and buying habits. Of course, it helped that I knew exactly what I wanted and that negated the value of having to physically visit a store to make my purchase.

Although I didn't technically interact with a contact center, there's no reason why a contact center with similar access to a customer database couldn't provide the same level of convenient customer service. Knowledge of the consumer and consumer expectations will continue to grow in importance for the contact center industry. Consumers continue to demonstrate an enthusiastic willingness to make remote purchases. The challenge will be making your contact center ready for them.
---
Call Center Comics!

If you like this comic and would like to see more, write Ozzie at callcentercomics@yahoo.com and visit his website at http://callcentercomics.com/cartoon_categories.htm or just click on the comic to take you to his page. The NACC appreciates Ozzie letting us use some of his comics in our newsletter.
---
To view past issues of In Queue, please click here.

If you would like to contribute to In Queue, please reply to this email with "Contribute" in the subject line.
Copyright 2013 National Association of Call Centers