What's New in In Queue
Paul Stockford, Research Director, NACC and Chief Analyst, Saddletree Research, Paul.Stockford@nationalcallcenters.org

Home Agents are HOT! As detailed in our latest report, available to NACC members for download at www.nationalcallcenters.org, the at-home agent movement is gaining noticeable momentum in 2013. With over 50 percent of contact centers now supporting some part of their agent workforce in a home office, flexibility and efficiency are clearly on the increase, but there are challenges.

One of the biggest challenges is finding the type of agent with the characteristics and capabilities that will make them a success working in an independent home office environment. Not everyone can successfully make the transition from a brick-and-mortar agent to the home environment. So, how does the hiring manager find those unique individuals with the personality and work attributes that will make them a successful at-home agent?

At the end of this month, on February 28th, I'll be participating in a webinar with Vicki Steere who is Director of Talent Acquisition Marketing for Teletech. The title and topic of the webinar is "Best Practices in Hiring and Managing Home Agents." No charge for the webinar, of course. Go here to register for this event.

While you're at it, be sure to download the very educational e-book on the home agent movement from Plantronics. Entitled Home Working and the Contact Center: Working Your Way Home, this electronic coffee table book can be downloaded here. You can't beat the price since it's free and I guarantee that you won't find the "H word" (headset) anywhere in the text.

Volunteer Memberships Available. Apparently agents aren't the only ones involved in contact center turnover and personnel churn. Several of our 2012 volunteer members have left their employers, creating vacancies in our volunteer membership ranks. If you'd like to be come a part of our community and interact with your peers as well as have access to our reports, such as the recently published "The At-Home Agent Movement: A Benchmark Quantitative Analysis," in addition to accessing our job board and the business opportunities that come our way, you should consider becoming a volunteer member.

Volunteer memberships are provided at no cost in exchange for 30 minutes of your time during the one year membership period. All we ask of our volunteer members is to participate in our surveys, which typically take four minutes or less to complete. In 2012 we ran a total of three surveys. In 2013 we'll probably run one per quarter but we still promise to ask for no more than 30 minutes of your time during the year.

If you'd like to join us, send me an e-mail with the word "Volunteer" in the subject line and I'll set up your membership. If you have questions don't hesitate to contact me.

Follow Us On Twitter. My twitter handle is pauloncc (as in Paul on Contact Centers). I only tweet about industry developments, events and anything of direct industry interest. I promise I won't tweet pictures of what I had for lunch or anything else that will waste your time.
---
When You Don't Know...Ask! Or Better Yet...Survey!
Lori Fraser, Senior Consultant, Strategic Contact, Inc.,

lfraser@strategiccontact.com
Surveying sounds so simple, yet a lot of contact centers neglect to ask their customers and employees what they could do better. Management may think they know the service challenges they face because a few vocal employees visited their offices or customers called to complain. But this limited sample doesn't validate or quantify a problem or ensure that you have identified and prioritized all issues. Today's cloud-based survey tools (e.g., Survey Monkey, cVent) are so inexpensive and easy to use, even the smallest center can collect valuable data from which fact-based decisions can be made.

Surveys can quickly provide feedback on agent knowledge, professionalism, First Contact Resolution (FCR), and overall customer satisfaction (cSat). For example, Voice of the Customer surveys identify themes for system or process continuous improvement initiatives and key areas for individual or team training on policies or product knowledge. The same tool can survey employee satisfaction (eSat) or help you discover the root cause of process breakdowns within a contact center or between the center and internal departments such as IT, field teams, or fulfillment. Agent surveys can raise management awareness of change management needs or identify opportunities to improve morale by shifting priorities on process improvement or technology initiatives.

Consider four recent examples from client projects to get your juices flowing:
In a rapidly growing on-line retail environment, a survey focusing on roles and responsibilities between staff helped clarify for management organizational changes for greater center efficiency and accountability.

A multi-state organization wanted to establish a centralized call center. They surveyed the retail location management across the states to identify and quantify needs and roles prior to establishing the new center.

A large center struggled with consistency and accuracy in information provided to callers. They surveyed agents to understand their reasons for not using the organization's Knowledge Management (KM) tool, and then launched an initiative to update and reorganize center-specific content for easier use and greater agent confidence in information accuracy.

A company wanted to get perspectives across the organization of how IT was meeting needs in planning, implementation, and support. A quick survey helped identify priorities for change and set a baseline to measure improvements over time.
Anonymous surveys enable employees to provide frank feedback without fear they are jeopardizing their job. You can administer surveys through third parties to address any lingering concerns. In addition to statistical data, you can receive unsolicited comments that may open your eyes to issues of which you were unaware, or secure anecdotal input to support the case for new initiatives. My personal favorite benefit: Surveys provide a first step in the change management process by raising staff awareness and engagement in pending efficiency and effectiveness initiatives.

If you're ready to dive in, here are a few best practices to help you make the most of this valuable tool:
Internal Employee or Initiative Focused Surveys

External Customer Feedback Focused Surveys

Provide assurances of privacy for all employees involved
Explain what you will do with the information and why their input is valuable
Consider level of effort as you balance respecting agent time and your need for detailed data
Provide timely feedback to agents regarding survey findings and planned actions
Share feedback themes (e.g., efficiency, effectiveness, customer experience) with all participants and impacted areas




Avoid survey bias by sending surveys direct from your center or via a 3rd party
Explain what you will do with the information and why their input is valuable
Minimize level of effort by using a simple survey scale and limiting response time to 2-3 minutes or less
Provide timely feedback to agents and supervisors
Share feedback themes with impacted areas to support continuous improvement, focusing on the center's role in the customer experience
Calibrate Quality Monitoring (QM) questions and scoring to aligned with VoC questions
---
The Choice Is Clear: Adapt Or Die!
David Butler, Executive Director, NACC,
David.Butler@nationalcallcenters.org
The Associated Press last week ran a three-part series entitled, "The loss of middle-class jobs in the wake of the Great Recession, and the role of technology." In these articles the journalist examined why the U.S. lost 7.5 million middle class jobs during the Great Recession and why only 2% of the 3.5 million jobs gained since the end of the recession are in middle class paying jobs. The culprit they say is not India, China or Mexico. It is technology that has replaced the middle class worker.

Automation. Self-service. Smart software. Companies now have more than one choice. They can hire people, have a payroll, comply with federal and state rules, provide benefits, etc. or they can outsource to another company and let them handle those headaches. Another choice today is to automate the entire process and not have to worry with any persons at all. "…[I]nstead of installing expensive equipment and hiring IT staffs to run it…[w]hole employment categories from secretaries to travel agents, are starting to disappear." And this is true not only for large companies; it is true for small start-up companies as well. "Start-ups account for much of the job growth in developed economies, but software is allowing entrepreneurs to launch businesses with a third fewer employees than in the 1990s. There is less need for administrative support and back-office jobs that handle accounting, payroll and benefits."

Future jobs for the call center industry emerged from just such start-ups. So what does this mean for the industry? Have we not seen all this before? In fact, did the call center industry not emerge from just such a trend? Yes and yes. However, do not let that make you complacent. If you are not being innovative in your call center in terms of services offered to the parent company and to customers, you are falling being. Status quo is standing still and standing still is falling behind. As a friend of mine is fond of saying, doing nothing new is the riskiest position to take though most people do not realize it. It is not all about just cutting cost, because that path of cost cutting leads to the same end. In the end you can only cut a dollar so much before there is nothing left.

Innovation, creativity, and new ways of offering services and products is the way to the future of survival in the call center industry. Do you have a strategy to survive and thrive? If not, the time to act is now. If you need help in getting there give us a call. We're available to help.
---
Hiring Plans Confirm Industry Confidence
Paul Stockford, Research Director, NACC and Chief Analyst, Saddletree Research,

Paul.Stockford@nationalcallcenters.org

In last month's newsletter, available in the In Queue archives at

www.nationalcallcenters.org

, we reviewed the responses to the survey question asking respondents about their confidence in the economy going into 2013. While the largest percentages of respondents believe that this year will be very much like 2012, the economic optimists greatly outnumber the economic pessimists. The figure below represents all responses to the question, "From a national economic perspective, what are your expectations for 2013 compared to 2013."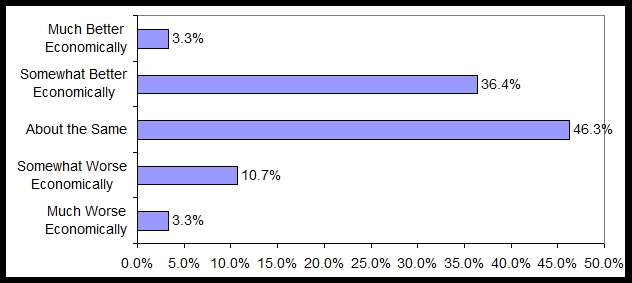 Source: National Association of Call Centers

This month we'll look at how this translates to hiring plans for 2013. Not surprisingly, the percentage of respondents planning to add agent headcount in 2013 corresponds closely to the percentage of respondents that believe 2013 will be better economically than was 2012. The conservatives who believe the economy will be about the same this year are likely those who will be replacing agents due to normal turnover but will not be adding any net new headcount. Full representation of the responses to the hiring question is in the figure below.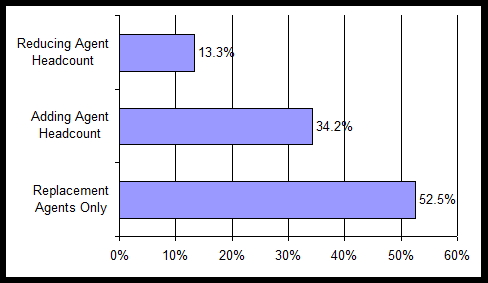 Source: National Association of Call Centers

At the NACC, we count ourselves among the optimists going into 2013. The industry's employment track record remains strong and the Great Recession taught us that customer service is critically important regardless of economic circumstances. We believe that for those of us involved in the customer care industry in any way, the economic horizon is clear and bright.
---
Call Center Comics!

If you like this comic and would like to see more, write Ozzie at callcentercomics@yahoo.com and visit his website at http://callcentercomics.com/cartoon_categories.htm or just click on the comic to take you to his page. The NACC appreciates Ozzie letting us use some of his comics in our newsletter.
---
To view past issues of In Queue, please click here.

If you would like to contribute to In Queue, please reply to this email with "Contribute" in the subject line.
Copyright 2013 National Association of Call Centers