---
Paul Stockford, Research Director, NACC and Chief Analyst, Saddletree Research, Paul.Stockford@nationalcallcenters.org

It's time for us to launch our annual survey once again. As a 503(c)(6) not-for-profit, University-based organization we don't have the resources that the for-profit organizations out there do so we count on help from our members and subscribers to accomplish our goals. We're asking for your help once again.

Our survey has been designed to get to the root of many industry issues that we plan to further research and write about in 2014. As always, we designed the survey with all closed-ended questions so it will only take a couple of minutes to complete and the survey results will be published in this newsletter throughout 2014 so everyone will benefit from this research project.

Please do us a huge favor and go to https://www.surveymonkey.com/s/NACC2013 to complete the survey. We don't ask for any identifying information, only demographic information, so no salesperson can or will contact you. Your privacy is absolutely protected.

To quote a current NACC member (see the next article), "I love the research…The NACC produces some great research that I find very useful." Please help us to continue our industry research mission by giving us a few minutes of your time to complete our 2013 survey. Thanks in advance.
---
Meet The Members: Kymberlaine Banks of Telvista

Paul Stockford, Research Director, NACC and Chief Analyst, Saddletree Research, Paul.Stockford@nationalcallcenters.org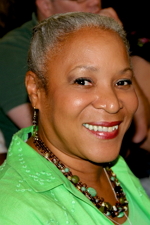 Time for another installment of "Meet the Members," where our readers have an opportunity to learn a little more about the people who make up the NACC membership (See article below for NACC membership information). This month features Kymberlaine Banks of Telvista, one of the leading multi-national outsourcers based in North America

NACC: When did you begin your customer service career?

KB: This is actually my first job in customer service. I joined Telvista in 2007 as part of the marketing team and transitioned into customer service when the opportunity arose. Customer service is a great fit because I have 25+ years of experience in corporate communications where keeping a customer service focus helps achieve the objective of getting the customer's attention. This attitude has served me well as internal opportunities arose at Telvista.

NACC: Why choose a career in customer service?

KB: Customer service provides an opportunity to make a real difference for both the company and for the customer. I like to fix things so I'm challenged by customer service issues and I enjoy interacting with customers. As a customer myself I know what good customer service is, and isn't, and I also know it's a lot less expensive to provide great customer service with the first contact than it is to have to backtrack to get an issue resolved. Customer service is a good place for me in my professional life.

NACC: What is your role at Telvista?

KB: I'm the Social Media Manager. My group provides digital customer service support to a variety of very large organizations. Digital customer service includes customer contact support via social media channels, e-mail and chat. It was a natural transition from marketing for me. This is a new field for most of our customers and I was tasked with creating the social media group in 2011 so we could evolve with our customers. Our contribution to the company and to our customers has been growing ever since.

NACC: Are there any particular challenges running a social media team?

KB: The people on the social media team have to possess a very unique skill set. They have to be proactive rather than reactive since we search for customer conversations for us to engage. The team members have to be articulate content creators and have a good feel for people who prefer social media as their customer service communications channel. They have to be naturally inquisitive problem-solvers.

The big challenge comes in finding qualified agents and competing with so many other careers that may be attractive to these people. We've developed some very unique assessments to assist in finding these individuals. We've also been lucky enough to find people within Telvista who can transition into the social media role. It has turned out to be a great career path for them internally.

NACC: Is there a career best or worst customer experience that comes to mind?

KB: Just recently I contacted a company via Twitter for customer service. Rather than communicating with me on Twitter they redirected me to a chat message, which then asked me to fill out a form regarding my service issue. I received a phone call in response and it was clear that the agent on the other end hadn't read the form before the call was initiated. It really bothers me when social media isn't used properly in a customer care situation.

NACC: What drew you to the NACC?

KB: I love the research. When I started with Telvista's business operations team I was responsible for business intelligence and understanding customer service needs in a variety of industries. The NACC produces some great research and I still find it very useful. I've been a volunteer member since I joined Telvista and I'm still a member today.

NACC: What do you like to do when you're not at work?

KB: I love art and music so I spend a lot of time at museums and concerts. I serve on a couple of non-profit boards. I also enjoy reading and am in a book club. Believe it or not, I'm not really as boring as I sound!

NACC: Any advice for people just starting their customer service career?

KB: Always think of yourself as the customer and treat others accordingly. If you do that, you'll have a fabulous career.
---
Steve Suhn, Strategic Contact, steve@strategiccontact.com
Technology is the great contact center enabler IF the organization provides roles and responsibilities dedicated to understanding, working with and promoting the use of that technology.

We often hear call center managers say that their technology is not delivering the features and functions they need. However, we find in most cases it is not the technology that is lacking, but rather the users not fully understanding technology capabilities. Often organizations are willing to invest in the technology, but stop short of training users and establishing roles focused on applying the technology to business needs. Implementing technology is great, but without resources to operate and optimize it, you will not reap its rewards, or worse, you'll discourage future technology purchases.

Understand Technology Possibilities
To be successful, today's contact center leaders need to not only define business strategies and drivers, but also understand how systems and tools enable them to achieve their goals. Leaders and users alike need to become familiar with the wide range of available technologies, and play a role in planning, deployment, and optimization.

Define Contact Center Roles in Technology Application
To respond to business and customer needs, the contact center needs to step up its responsibility for managing its technology. Too much time is lost waiting for IT or other resources to change basic configurations and perform simple functions. To manage this transition successfully, the contact center must define those tasks to be managed and identify the roles and talent to fulfill them. Examples of technology applications that should be managed by the contact center include:
ACD – Automatic Call Distributor – Make basic and routine routing or skill changes, add new agents and provide general database maintenance

IVR – Interactive Voice Response – Execute minor prompt changes, adjust message timing, add new messages

WFM – Workforce Management – Manage contact and resource forecasting, staff scheduling, real-time resource management; monitor schedule adherence, and shrinkage to validate and adjust forecasts

QA – Quality Assurance – Monitor and score contact interactions for quality and procedural adherence and define business rules for recordings

KM – Knowledge Management - Author, develop and post content that is timely, easily accessible and pertinent to assist agents and customers

Reporting – Schedule reports, develop custom reports, and provide analysis using reporting and analytics tools effectively; assess and optimize performance through the use of additional tools that could include speech analytics, desktop analytics, text analytics, etc.
A strong desire and ability to understand what's possible and how technology can help solve business issues is critical –whether strategic or tactical. No one is an expert on all of these applications, but as a leader, a good working knowledge of what these technologies can do will greatly increase your ability to lead the center to achieve its goals. Make the case for establishing (or adding to) roles to execute these tasks. Hire the right people to fill them – whether promoting from within and creating career path opportunities, or bringing some new experience and expertise into your center. With the right roles and trained talent in place, you can rely on your "experts" in each area to help run your center effectively.

Where to Go For Help
You don't have to go it alone. There are plenty of resources to help you get more involved in your technology as well as develop and coach your "expert" bench. Work closely with your IT department to increase your understanding of the tools and their functions. Consult your technology vendor(s) for product-specific training and information on user groups. Get connected to industry forums. There are an abundance of groups, seminars, and conferences that are excellent sources of information and industry best practices. Or, better yet, utilize all three as you work towards unlocking the full potential of your technology investment.
---
Paul Stockford, Research Director, NACC and Chief Analyst, Saddletree Research, Paul.Stockford@nationalcallcenters.org

Due to some recent changes in employment that has led to member turnover we're shoring up our volunteer member corps with a membership drive. Becoming a volunteer NACC member is easy.

Volunteer memberships are provided at no cost in exchange for 30 minutes of your time during the one year membership period. All we ask of our volunteer members is to participate in our surveys, which typically take four minutes or less to complete. In 2012 we ran a total of three surveys. In 2013 we didn't run a single one until this month, as we begin our annual year-end survey. This year we didn't even ask for 30 minutes of volunteer time!

NACC membership gives you access to reports, our Job Board, business opportunities as they come to us, and the opportunity to tap into the membership network for inquiries, advice and review. We promise to ask for no more than 30 minutes of your time in total to participate in our brief surveys during the course of the year. It's a great deal. If you'd like to join us, send me an e-mail with the word "Volunteer" in the subject line and I'll set up your membership. If you have questions don't hesitate to contact me.

Watch for our E-Mail Invitation Next Week

On November 18 we'll be sending you an invitation to the 2014 Remote Working Summit to be held in Dallas February 4-5, 2014.

Work at home for contact centers, support functions, and enterprise workers is growing at a rapid pace, as you already know. This conference is facilitated by Michele Rowan of Customer Contact Strategies, one of the industry leaders on remote work.

Here's a preview of what's covered at the conference:
Speakers from Amazon, American Express, Aetna, Teleflora, BECU Credit Union, Marriott and others share their innovations on contact center work at home and support functions.

Six key case studies, and eight smaller benchmarking sessions on subjects ranging from virtual hiring, virtual performance management, virtual training, IT and security, HIPAA and PCI compliance, flexible scheduling, and gamification.

200+ attendees will join for two days of riveting exchanges and key learnings on remote work.
This conference is only held once per year and early bird is on now through December 31. So if you're using remote workers, or thinking about it, this is an event you don't want to miss.
---
Paul Stockford, Research Director, NACC and Chief Analyst, Saddletree Research, Paul.Stockford@nationalcallcenters.org
Last week I had the opportunity to visit the Contact Center Fall 2013 conference in Phoenix, AZ. The conference was sponsored by the Contact Center Association (CCA), which is a division of Redwood Collaborative Media. It was a relatively small event with a good mixture of conference topics and speakers.

I was encouraged to see this conference program include presentations from vendors, who have essentially become almost entirely forbidden in other contact center conferences. While tactical contact center managers can offer valuable managerial advice to conference delegates, the vendors are the visionaries. They can talk about what strategic contact center managers should be thinking about in order to be prepared for the future. Excluding vendors from conference programs is a mistake.

The most memorable aspect of the conference for me was the exhibit hall. As you can see from the picture below, the exhibit hall was actually outdoors. Where else but Phoenix can exhibitors set up their tables poolside and be assured of comfortably warm weather in November? This picture shows folks from Interactive Intelligence shortly after they thawed out and were able to move again.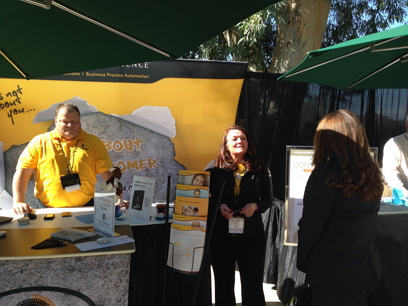 The first call center trade show event I attended was Call Center Dallas back in about 1992. I've been to call center conferences and events all over the world since then but this is the first event I've ever been to where the exhibit hall was outside.

The thought has crossed my mind that perhaps the NACC should consider either creating an industry event or somehow getting involved with other industry event organizers in 2014. We have been solicited several times this year by other conference organizers interested in offering some sort of discount arrangement for you, our members and subscribers, in exchange for them getting their hands on the NACC database. We have refused or ignored these sorts of lame offers and will continue to protect your contact information. But, if a National Association of Call Centers conference event is something you think you would support and attend, I'd appreciate hearing from you. As always, feel free to drop me an e-mail at my address above.


---
Call Center Comics!

If you like this comic and would like to see more, write Ozzie at callcentercomics@yahoo.com and visit his website at http://callcentercomics.com/cartoon_categories.htm or just click on the comic to take you to his page. The NACC appreciates Ozzie letting us use some of his comics in our newsletter.
---
To view past issues of In Queue, please click here.

If you would like to contribute to In Queue, please reply to this email with "Contribute" in the subject line.
Copyright 2013 National Association of Call Centers