Our Contact Info:
Paul Stockford
Research Director
National Association of Call Centers
100 South 22nd Avenue
Hattiesburg MS 39401
Tel: 480.922.5949
paul.stockford@nationalcallcenters.org
www.nationalcallcenters.org
Circulation
In Queue circulation 23,004
Advertise with Us
Click on the image below to view the NACC Advertising Page where you can view our channels and prices.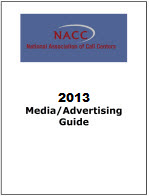 To advertise with the NACC, please contact the NACC at:
Tel: 601.447.8300
Fax: 601.266.5087
Email: paul.stockford@nationalcallcenters.org
Underwriters
All leading call center companies and suppliers should examine the NACC Underwriting opportunity in 2012 as evidence of their dedication to the growth of the call center industry. See the NACC Advertising Page for more information.
Share the Knowledge
Send this newsletter to colleagues by clicking "Forward this message to a friend".

Quote
"Never make forecasts, especially about the future."
- Samuel Goldwyn
Reports from the NACC
The NACC has been burning the midnight oil and typing until our fingers are sore to bring out reports to our members. Each is listed below. If you are interested to see what we are writing about, click on the links below and download the executive summary of each. If you like what you see, join the NACC so that you can view these reports and others that will be coming out soon on our website. These reports will ensure that you know the latest trends in the industry.
A Message From The Executive Director
David Butler, PhD, Executive Director, NACC,


david.butler@nationalcallcenters.org
Although it was actually in 2004, it seems like it was only yesterday when the National Association of Call Centers was approved as a not-for-profit membership organization. Now here we are, nine years later, still serving the customer service professionals in the contact center industry. Our vision and mission statement have not changed since our inception but we have changed what we deliver to our members. Our newsletter is as robust, interesting, and informative as ever. We have brought on board other well-known and respected experts in the field such as Paul Stockford and we continue to deliver to you reports loaded with valuable data that we trust will help you better meet your job responsibilities. As we progress towards our 10th anniversary in 2014, I encourage you to use the NACC as a resource in your decision-making. Read the newsletter, join to receive our regular reports, use our consulting services when you need expertise, and advertise with us to reach an attentive and interested audience. I look forward to bringing you the unique insights and data that only the NACC can provide in 2013.
---
What's New in In Queue
Paul Stockford, Research Director, NACC and Chief Analyst, Saddletree Research, Paul.Stockford@nationalcallcenters.org

At-Home Agent Research Report Available! The research report covering the results of the benchmark survey we conducted regarding the at-home agent movement has been published and is now available. Members can download the full report from the NACC website, www.nationalcallcenters.org.

The introduction to the report is included in this issue of the newsletter and can be found below. If this report is of interest to you and you are not yet an NACC member, please visit www.nationalcallcenters.org/membership to learn about membership options, or feel free to contact me directly at paul.stockford@nationalcallcenters.org.

Heard Any Good Podcasts Lately? If not, let me direct you to www.saddletreeresearch.com where I've recently posted a few really good ones. The purpose of the podcast is to provide you with as much information as possible in about 12 minutes or less – about the time it takes you to drink a cup of coffee at your desk.

I know you don't have hours to dedicate to the dozens of webinar invitations you get each week, but these podcasts cram lots of information into a very short period of recorded time – typically about 10 to 12 minutes.

Downloading any of the podcasts, which span a wide variety of industry-specific topics, requires a brief registration so I can keep track of who is listening and what topics appeal to you, the audience. I'm not going to call and bother you if you listen to one of our podcasts; I just want to know who is listening, so get over to www.saddletreeresearch.com and get started!
---
Discover Call Centers And Football
David Butler, PhD, Executive Director, NACC,


david.butler@nationalcallcenters.org
Discover Card supports college football. Last year there was a series of commercials with people calling "Prime Credit" card company and getting a man named "Peggy" as the call center representative who gave them the runaround for a few minutes before hanging up on them. The ads were quite funny and pointed to call center customer service as a cornerstone of the Discover Card. This football season new ads for the Discover IT Card have been released. In these ads the contact centers are front and center as well but instead of "Peggy" we have customers talking to themselves while their alter ego is the call center agent on the other end of the line. The alter-ego agent converses with them, shares antidotal stories and in essence understands them as well as they understand themselves.

During a time when contact centers have been viewed unfavorably in the public, Discover Card has effectively used humor to position the contact center as a positive metaphor for their customer service. It is interesting to see how some companies keep their contact centers in the company shadows while others put their customer service operation front and center as an asset. Well done Discover Card.
---
Cautious Optimism Characterizes Contact Center Industry In 2013
Paul Stockford, Research Director, NACC and Chief Analyst, Saddletree Research,
Paul.Stockford@nationalcallcenters.org
Each year we start our year-end end-user survey by asking respondents what their economic expectations are for the year ahead. Although optimism still prevails in 2013, the majority of respondents felt that the economy in 2013 will be about the same as it was in 2012. Complete results are in Figure 1 below.

Figure 1: Responses to "From an Economic Perspective, How Do You Expect 2013 to Compare with 2012?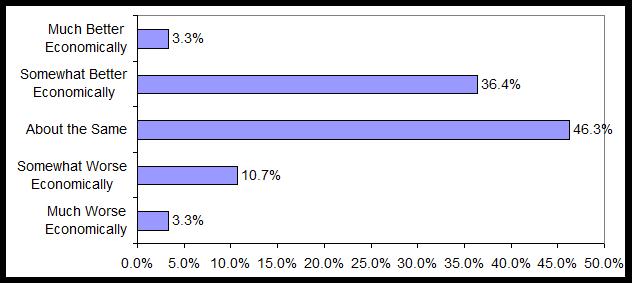 Source: National Association of Call Centers (NACC)

It is interesting to note that the percentage of respondents who believed the 2012 economy would be about the same as the 2011 economy was 47.9 percent, so there was no significant change in that result. The percentage of respondents believing that the economy will be much better is down from 6.8 percent in 2012 while the percentage of respondents who believe the economy will perform much worse than last year is up from 1.7 percent in 2012.

Although the middle ground remained fairly consistent, those with stronger beliefs at either extreme have the potential to impact the industry as the year progresses. It is likely that the impact will be in such areas as hiring and expansion throughout 2013.
---
New Research Report Available: At-Home Agent Movement
Paul Stockford, Research Director, NACC and Chief Analyst, Saddletree Research,
Paul.Stockford@nationalcallcenters.org
The following excerpt is from the newly published NACC report covering at-home agent trend research. The complete report is available to members for download at www.nationalcallcenters.org.
The At-Home Agent Movement: A Benchmark Quantitative Analysis


_______________________________________________________________



Introduction
The U.S. contact center market has been fascinated with the concept of having its customer service representatives work from home rather than in the brick-and-mortar contact center since JetBlue Airways established their high-profile virtual contact center in 1999. At the time of its establishment, JetBlue's home-agent virtual contact center called for the purchase and implementation of specialized equipment for each at-home agent as well as in the company's headquarters contact center in Utah. While JetBlue was able to attract talented agents as a result of their offer to let agents work from home, the additional cost of equipment, maintenance, and management prevented the at-home agent movement from finding widespread success in the industry.

With the proliferation of broadband connectivity to homes throughout the U.S. and the resulting capability of both voice and data communications over those lines, the barriers that were once hindering the widespread adoption of an at-home agent strategy have been effectively removed. In recent years, the idea of having contact center agents work from home has gone mainstream as evidenced by the number of industry media articles, trade show conference sessions, webinars, and workshops dedicated to the topic of establishing an at-home agent workshop.

Despite the proliferation of media coverage and qualitative discussion, there is very little quantitative data available that can validate the success, or failure, of at-home agent programs. The empirical data that supports qualitative discussions of at-home agent implementations generally address a small number of contact centers. The data does not provide an indication of the overall number of contact centers that have launched at-home agent programs.

With an interest in measuring the success of at-home agents in the market as a whole, the NACC turned to our membership. The data provided in this report is based entirely on NACC member survey results rather than based upon any vendor interviews or input.
---
Call Center Comics!

If you like this comic and would like to see more, write Ozzie at callcentercomics@yahoo.com and visit his website at http://callcentercomics.com/cartoon_categories.htm or just click on the comic to take you to his page. The NACC appreciates Ozzie letting us use some of his comics in our newsletter.
---
To view past issues of In Queue, please click here.

If you would like to contribute to In Queue, please reply to this email with "Contribute" in the subject line.
Copyright 2013 National Association of Call Centers