What's New in In Queue
Paul Stockford, Research Director, NACC and Chief Analyst, Saddletree Research, Paul.Stockford@nationalcallcenters.org

VOLUNTEER MEMBERSHIPS AVAILABLE: We are seeking customer service professionals who are interested in becoming an NACC member at no charge in exchange for 30 minutes of time during a 12 month period. This is a complete membership with full access to the reports and documents resident on the NACC website. You will also receive exclusive notification of business opportunities for members as they are presented to the NACC. The only requirement is that you have to be currently employed in an active contact center at a level of supervisor or above.

Our surveys are infrequent and typically short and results are shared with members. To see an example of an average survey, please go to https://www.surveymonkey.com/s/NACCPerformanceManagement. While you're there why not complete the survey and get familiar with the whole volunteer membership experience? Our promise is to not ask for more than 30 minutes of your time in a 12 month period. If you would like to join the ranks of our volunteer members please send me an e-mail with the word "Volunteer" in the subject line.

UPCOMING NACC WEBINAR! On August 21st, David Butler and I will be co-hosting a webinar covering one of the industry's current hot topics – optimizing the customer experience. As broad as that topic sounds, we'll be narrowing our focus to exploring how humans interact with both processes and technology. We'll be joined by speakers from OpenSpan, who will add to the discussion of how to simultaneously improve both the worker experience and the customer experience. You can sign up for this webinar now by going to http://www2.openspan.com/l/11522/2012-06-27/73rk2. Please register for this event and mark your calendar to join us.

This month's issue of In Queue features an article from regular In Queue contributor Strategic Contact. Author Lori Fraser draws inspiration from the summer Olympic Games and writes about ramping up for the peak season that lies ahead, and for improved business conditions. You can reach Lori at lfraser@strategiccontact.com.

Finally we have David Butler's contribution from the blogosphere as well as a look at contact center industry employment during the first half of 2012. While first quarter numbers took a major plunge due to shakeups in the wireless telecommunications vertical, second quarter numbers are very encouraging. Look for my article below.
---
Peak Season Success Requires Planning
Lori Fraser, Consultant, Strategic Contact, Inc.
lfraser@strategiccontact.com
What do Olympic athletes and your contact center have in common? Finely-tuned bodies, focused minds, diligent training, the right support staff for training and competition, and the best equipment the budget allows. The processes, products, and policies may differ (OK, and the bodies too!), but the need for peak season planning and flawless execution is common to both. A winning contact center strategy sustains or increases revenue, operates cost effectively (regardless of season), retains staff, and satisfies customers. Failure squanders opportunity, resources, and customer loyalty. As coaching great John Wooden said: "If failure isn't your goal, then it's time to prepare for success."
Get the Fundamentals in Order…
Just like Olympic athletes, it all starts with the basics. Focus on the fundamentals, and you've got a good springboard to lift you into peak season. The fundamentals focus on the most critical asset in your center – People – and how you manage them to peak performance, without neglecting other key enablers.

The basics start by knowing what matters to your company and customers. You need to establish appropriate individual, group, and center Key Performance Indicators (KPIs). Know what you are going to measure and how you'll get the numbers. Top centers don't deviate too far from their goals no matter what the volumes; they plan ahead so they reach their critical targets – in quality and efficiency – even when volumes are high. That's what sets them apart from their competition.

Basics include preparation for new front-line staff. Check job descriptions and process documentation, consider the "easiest" call types and routing and skills structures to match, and develop clear, targeted training for new hires. Peak season is not the time to "just wing it." Of course, those people need technology and facilities capacity too, so make sure planning includes IT and others.

Give careful consideration to your contact center support staff. You'll need to gear up your workforce management and quality assessment processes to handle extraordinarily volumes. Does your staff handle scheduling and real-time management effectively with regular volumes? Do they have a plan for life in the extremes? Are you checking internal (Quality Monitoring) and external (Voice of Customer) quality regularly to ensure that your reps adhere to your processes and policies and deliver the expected customer experience? World class centers keep quality monitoring and coaching at the same level even during peak season.

Let's not forget reporting. You need to know how the center is doing and how each individual contributes to the collective. Who's doing great? Who needs more coaching or help in order to handle their fair share during this busy time? Visible reporting, by role, is a foundational element.

… And Be Ready to Ramp Up
With a two- to ten-fold increase in volume, a lot of "moving parts" around the organization will experience strain. A good plan relieves the pressures and ensures that neither your staff nor your customers feel the pain. Depending on your resources, there are six functional areas to address to enable greater volume handling or minimize volumes agents must handle. Centers with limited budgets may only be able to consider temporary staffing options. However, depending on your budget and time to prepare, there are additional options to proactively reduce inbound volume, reduce handle time, add capacity, and optimize technology use and performance. See the table for options to consider.
Options
Considerations

Proactively prevent calls or reduce inbound volume

Add proactive automated outbound notifications or alerts - calls, emails, SMS text messages.

Add web chat and collaboration.

Contain calls or reduce agent volume

Limit queues based on conditionals with dynamic messaging and options to help customers find alternatives at busy times.

Boost IVR self-service through status-based messaging, additional self-service functionality, and improved user interface.

Reduce handle time

Reduce transfers (within and between teams).

Shorten handle times through system efficiencies, process improvements, screen pops, or knowledge management tools, content and search functionality.

Add capacity and response agility

Expand hours to minimize daily peak.

Implement estimated wait time and call back options.

Optimize technology use and performance

Add intelligence to routing, using business rules based on customer information and contact type to tap the best skilled staff.

Add screen pops or increase screen pop percentage.
The most common option is to add more agents. This may be temporary staff, outsourcing partners or existing staff within the center and from other departments through "All Hands on Deck" initiatives to help with peak volume. More agents also means more coaches and support staff. While you may get off to a good start with early sourcing and hiring plans, don't forget about your training room logistics and staff seating plan. You need a plan (by week) for how many agents are in classroom training, nesting training, and then productive on the center floor. [Don't forget about attrition!] Map out your seating plan – by week, by day, by shift. Facilities limitations may force you to consider using home agents or outsourcing.

Coaching, QA, and back office roles frequently get overlooked in the staffing plan, compromising the customer experience and presenting bottle-necks to center efficiency and effectiveness. Experienced staff in the management, supervisory, and agent ranks may need to increase the amount of time they spend on the floor giving seasonal staff the support they need. Consider using subject matter experts as floor walkers to provide technical or process expertise to new staff. Your redeployed staff will need relief from other responsibilities during peak season; plan projects around your peak, delay other tasks or enlist other departments to assist with non-client facing tasks which must get done.

What's your plan?
With the fundamentals in place and a solid ramp up plan, you can handle the peaks. To guide your thinking as you prepare for your upcoming peak season, check out Peak Season Coverage "Best Practices."
---
Free The Agent! How Technology and Process Can Better Serve the Employee and Ultimately, The Customer
Laura Tanner, Vice President Marketing, OpenSpan
ltanner@openspan.com

Let's face it. All too often, business executives and the IT organizations that support them focus on the abstract, at the expense of the personal. At the end of the day, all business activity is for and about people. It's about what the customers experience when they call you, or come into your storefront, or visit your self-service Website. It's about your employees' effectiveness at meeting customer needs, and how much it costs your organization to do so in terms of efficiency and errors. All too often, the technology and business processes put in place can become barriers to the worker's ability to execute. At OpenSpan, we believe there's a better way to work. By optimizing how human beings interact with processes and technology, you can improve not only the worker experience but the customer experience as a result.

Join OpenSpan for a compelling Webinar on August 21 as we introduce a new way of working for contact centers, hosted by the National Association of Call Centers' Executive Director Dr. David Butler and Research Director Paul Stockford. We'll explore how worker experience impacts customer experience, and how to improve interactions human-to-human and human-to-computer. Find out how to improve, measure and innovate both productivity and efficiency by starting where technology and people meet—on the agent desktop. Register for this important event today at http://www2.openspan.com/l/11522/2012-06-27/73rk2.
---
Outsource The President!
David L. Butler, PhD, Executive Director, National Association of Call Centers,
David.Butler@nationalcallcenters.org
(The following is a recent posting from the NACC blog)

Well, not really. But the title is catchy. At the National Association of Call Centers and through the Call Center Research Laboratory at The University of Southern Mississippi, we have been collecting data on the call center industry for over 10 years. This data includes call center openings, closings, expansions, contractions as well as a host of other data for the industry both domestically and internationally. Having data over time allows us to see trends which cannot be seen with data over just a few days, months or years. One such trend that shows up every four years is the influence of the US presidential campaign on the call center industry.
---
Second Quarter 2012 Industry Employment Numbers Indicate Quick Recovery From First Quarter Bloodbath!
Paul Stockford, Research Director, NACC and Chief Analyst, Saddletree Research,
Paul.Stockford@nationalcallcenters.org
While the U.S. economy continues it's somewhat weak recovery, the contact center industry took a major hit in employment as the wireless telecommunications industry undertook what appears to be a major cost-cutting effort by sending thousands of jobs to overseas contact center outsourcers. Led by T-Mobile and the export of 3,973 U.S. contact center jobs to offshore outsourcers in the first quarter alone, followed closely by Verizon Wireless and the offshoring of over 2,600 U.S. contact center jobs, it appeared that the domestic customer service profession was about to show its first decline in job growth since 2008.

Fortunately this reduction in the U.S. contact center labor force was offset in the first quarter by outsourcers such as Alorica, which added over 1,000 new contact center jobs to the U.S. market, and Sutherland Global Services, which ramped up the agent count by 600 jobs during the quarter. They were joined by a diverse corps of contact centers in verticals such as roadside assistance and financial services that were able to maintain a positive job count during the first quarter of 2012. Overall, there was a net gain of 513 jobs during the quarter. Although this was a far cry from the impressive job gain numbers that closed out the second half of 2011, it was still positive and was an encouraging indicator of second quarter hiring results.

Second quarter 2012 U.S. contact center industry growth was led by gourmet food proprietor Harry and David, which added over 700 jobs to help U.S. economic growth. Home Depot followed a close second followed by a number of outsourcers that continue to grow during the economic recovery. The net gain in contact center employment during the second quarter of 2012 was 10,914 jobs, putting the industry back on track as a leader in employment growth.

To put things in perspective I called my longtime industry friend and colleague, Kevin Hegebarth, Vice President of Marketing at HireIQ (www.hireiqinc.com), a fast-growing company that provides recruitment, selection and hiring solutions specifically designed specifically for the contact center industry. When asked about the hiring spike that occurred during the second quarter of this year, Kevin responded, "Over the past few months, we've seen a big pick-up in hiring by mid-sized outsourcers who are responding to the needs of captive contact centers looking to contain costs and remain competitive in today's market. That has translated into a major push to find alternative resources that can provide their customers with a cost-effective means of maintaining high levels of customer service at a manageable cost level."

When asked about in-house contact centers, Kevin remarked, "Captive contact centers are recognizing the need to improve the hiring process in order to remain competitive. We are seeing companies turn to hiring solutions that eliminate the subjective aspects of the selection process in order to maximize effectiveness and efficiency. These objectives are resonating with contact center hiring managers."

Although the third quarter of 2012 is still young, the NACC has seen a recent increase in the number of inquiries that we are receiving from companies looking for contact center partners in order to increase or manage their growing businesses. We consider this a positive indicator of industry employment growth for this quarter, and for the remainder of the year. A historical perspective of contact center growth by quarter is provided in the graph below.
Figure 1: U.S. Contact Center Employment By Quarter 2010 – 2012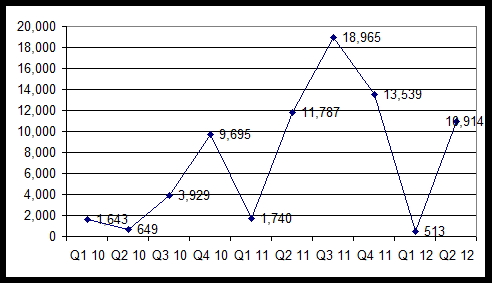 Source: National Association of Call Centers (NACC)
---
Call Center Comics!

If you like this comic and would like to see more, write Ozzie at callcentercomics@yahoo.com and visit his website at http://callcentercomics.com/cartoon_categories.htm or just click on the comic to take you to his page. The NACC appreciates Ozzie letting us use some of his comics in our newsletter.
---
To view past issues of In Queue, please click here.

If you would like to contribute to In Queue, please reply to this email with "Contribute" in the subject line.
Copyright 2012 National Association of Call Centers