What's New in In Queue
Paul Stockford, Research Director, NACC and Chief Analyst, Saddletree Research, Paul.Stockford@nationalcallcenters.org

FREE MEMBERSHIPS! We are beginning our summer campaign to shore up our NACC volunteer ranks and replace those volunteers who left due to attrition or turnover during the past year. NACC volunteer members get full membership in the NACC for a year, including access to the reports on the NACC website and all the other benefits that go along with NACC membership, http://www.nationalcallcenters.org/membership.html. All we ask for in return is volunteer membership participation in the surveys that we conduct over the course of the year.

Our infrequent surveys generally take only three or four minutes to complete. Our major summer survey might take up to five or six minutes. In any case, we promise not to take more than 30 minutes of your time over the course of your volunteer membership year. If you're interested in joining our volunteer membership group, please send me an e-mail with the word "Volunteer" in the subject line and I'll get back to you with details.

FREE PAPERS (that I wrote)! I've been typing my fingers to the bone over the past few weeks, authoring papers on both workforce optimization and interaction analytics. The papers are available for you to download. Since they are sponsored papers you don't have to be a NACC member to access them and there is no charge. Here are the details:

First up is a paper I wrote entitled "Workforce Management: Third Generation Comes of Age." If you have anything at all to do with workforce management software, from analyst to buyer, you should take a look at this paper. Not only do you get a bit of history, I provide a comprehensive overview of the third generation of workforce management software and why I find it so intriguing. You can download a copy at http://calabrio.com/wp-content/uploads/2012/06/Calabrio-WFM-Final_June-2012.pdf

If you're in the financial services market, you'll probably be interested in a paper I recently wrote called "Understanding Workforce Optimization in the Financial Services Industry." This paper takes a deep dive into how workforce optimization specifically addresses the needs of those of you in financial services. This paper can be downloaded at http://knoahsoft.com/white_papers/Understanding_Workforce_Optimization_In_the_Financial_Services_Industry.html

If your interests lean toward analytics, don't miss the series of research notes I just wrote about new product offerings from Nexidia. They have come up with what I believe is a very unique analytics-on-demand service as well as integrated voice and text analytics offerings. You can find complimentary downloads of these research notes at the following three URLs:
UPCOMING NACC WEBINAR! On August 21st, David Butler and I will be co-hosting a webinar covering one of the industry's current hot topics – optimizing the customer experience. As broad as that topic sounds, we'll be narrowing our focus to exploring how humans interact with both processes and technology. We'll be joined by speakers from OpenSpan, who will add to the discussion of how to simultaneously improve both the worker experience and the customer experience. You can sign up for this webinar now by going to http://www2.openspan.com/l/11522/2012-06-27/73rk2. More information about this webinar is in this issue of In Queue.

Contact Center mobility has suddenly become the industry hot topic du jour. We're fortunate this month to have an article contribution from Dan Miller, Senior Analyst and Founder at Opus Research in San Francisco. I've known Dan for many years and he is universally recognized as a leading industry authority in the voice services and conversational commerce areas. In his article, Dan discusses mobile virtual agents and virtual assistants, like the iPhone's Siri, in the contact center industry. This is cool stuff. If you want to contact Dan once you've read his thought-provoking article, you can reach him at dmiller@opusresearch.net or by phone at 415-904-7666. The Opus website can be found at www.opusresearch.net.
---
What Siri Has To Say About Customer Care
Dan Miller, Senior Analyst, Opus Research
dmiller@opusresearch.net
The other day I was invited to SRI's headquarters in Menlo Park to see the next-generation of virtual assistant to support online and mobile banking. Named Lola, she was the product of years of research and development carries out jointly by the scientists at SRI and the customer care specialists at Spain's giant financial services provider, BBVA. Lola shows off the power of "combining understanding and reasoning." The result, in the banking domain at least, is a highly-personalized resource that is able to understand a customer's intention and then act upon that in a conversational mode.

Lola is the future of "customer centric" services and support. It has many implications for contact center operations as companies across all verticals begin to integrate virtual assistants into the normal workflow and as customers define and determine when they want to turn to "virtual agents" to carry out certain tasks or applications. It's tempting to say, "this is where contact centers need to get getting Siri-ous" (referring of course to Siri, the mobile virtual assistant that ships with every iPhone 4S out there).

For all the attention she's getting thanks to Apple's multi-million dollar advertising campaign, Siri is not the only game in town when it comes to virtual personal assistants. There are dozens of competitors or imitators claiming to be "Siri-killers" or "Siri-for-the-Enterprise." The second term could easily apply to today's speech-enabled interactive voice response (IVR) systems. Both sound "human" and encourage callers to communicate to callers in natural, comfortable tones. They also use loads of data or metadata in order to anticipate the purpose of a call or utterance and move the mobile user closer to a successful outcome.

From a technology perspective, both mobile and enterprise virtual agents employ automated speech processing (ASR and TTS), natural language understanding (NLU), artificial intelligence (AI) and knowledge management (with judicious use of "Big Data") to infuse each interaction with human-like qualities. In the background, they carry out the complex search, data analytics and "decisioning" functions that shorten the time and effort it takes for callers to accomplish what they have set out to do. Ideally they make an agent's life easier as well because they can do much of the triage work, to ascertain the purpose of a call, gather information and deliver the caller to a well-informed agent to complete an action or transaction.

Siri is called a "mobile virtual agent" (MVA) because, for now, she is embedded in the iPhone 4S. Playing the role of MVA puts her in the very important position of helping mobile users grow accustomed to using their voices to get things done. She's fostering "Speechable Moments," meaning occasions where using one's voice is preferable to pressing "One" on a keypad, typing instructions on a computer keyboard or pecking out text on a handset or smartphone.

Who among us hasn't found oneself barking "Agent! AGENT!" in the airport lobby? Siri or the Siri-like interface gives us more genteel and productive ways to articulate our needs, wants or desired outcomes. Thus, the opportunities for "Speechable Moments" are growing geometrically. This is the product of proliferation of automated speech processing (ASP) resources on devices and in automobiles, coupled with links to "workflow management" tools, natural language processing and databases "in the cloud."

Mobile subscribers are becoming more comfortable and more skilled at using their voices to step up their personal productivity. This is destined to become self-reinforcing. Whether it's a company claiming to be "the next Siri" or a well-designed and executed speech-enabled IVR, each implementation should be judged according to its ability to make things easier for a user, not its ability to replace Apple or a contact center agent.
---
It Is Not Self-Service If You Have To Call
David L. Butler, PhD, Executive Director, National Association of Call Centers,
David.Butler@nationalcallcenters.org
(The following is a recent posting from the NACC blog)

Besides being the Executive Director of the National Association of Call Centers, my wife and I own a consulting company where we work with organizations assisting with their call center operations. The consulting company carries the standard business insurance, workers compensation, liability and so on. One of these policies is through Travelers. Each year we receive a letter that says something like, "You have been randomly selected to be audited…," which is clearly not random. If it were random, I would own my own Caribbean island having won the lottery at least two times with such randomness. This year the letter, instead of asking us to go through out files for the past year and make copies, and send them into to them, asks us to go online to their new system, ePHR, to submit the information electronically. While I a still a bit peeved at being "randomly" audited each year for the past forever, at least Travelers is moving to a self-service model, which is efficient and cost effective. Something that you should know, besides researching the call center industry for the past 15 years, I have also been studying the self-service emerging industry for the past 5 or more years as well.


All was going well last night when I was completing my self-service audit online until I had to upload my last 4 quarters of payroll data. When I searched for the file it found it just fine, and then pressed "upload" and poof!, the field disappeared (see image) and nothing was uploaded. I then searched again, cleared out again, nothing uploaded. I re-read the instructions, nothing about no .pdf documents, the size of my file was only 1.6M nowhere near the limit to upload. So, I tried again, nothing. I was stuck. So what did I do? I search out help of course. The problem was it was 8pm CST when this problem occurred and the hours of available support are EST and not open when I am doing this project. Note number 1, if you are going to have a 24 hour self-service system, at least for the first trial period have 24 hour support available.

So this morning, after getting done my much needed items I tried the self-service system again. This time I was hoping that there was only a technical glitch and that it had been reported and fixed by now. Same screen, same problem. Note number 2, if you are going to have a 24 hour self-service system in place you must have a 24 hour technical support available on call as well. With the problem not solved, I called the audit department help desk. I explained the problem to the nice woman on the phone, and she told me that it was a common problem. The system would not allow me to upload form my computer but if I emailed her the document, she could upload it for me. So I did email it to her.

Note number 3, and this is a big one. Self-service is intended to not only offer the customer flexibility in a 24 hour system it is also supposed to add a channel that reduces cost by moving simple tasks to the self-service channel and away from the more expensive channel such as the call center. However, since the system does not work, or not always works, then the cost of the self-service solution is sunk and also the cost of the call center is also still ongoing. In essence, I cost Travelers double because I used the self-service and the call center. This brings me to note number 4, test, retest and retest again before launching a self-service application. Otherwise, you lose the one chance of migrating your customers to this channel and cost savings down the road. You can be assured, when I am "randomly" audited again next year, and it will happen, I will probably chose to call and send in the documents via mail or email since my first experience with the self-service channel was less than successful.

If in doubt, go purchase something at Amazon.com. If your self-service channel is not as easy as purchasing an item from Amazon.com then rework it so that it is. Amazon.com is the standard that we are all expecting as consumers.
---
Free The Agent! How Technology And Process Can Better Serve The Employee And Ultimately, The Customer
Laura Tanner, Vice President Marketing, OpenSpan
ltanner@openspan.com
Let's face it. All too often, business executives and the IT organizations that support them focus on the abstract, at the expense of the personal. At the end of the day, all business activity is for and about people. It's about what the customers experience when they call you, or come into your storefront, or visit your self-service Website. It's about your employees' effectiveness at meeting customer needs, and how much it costs your organization to do so in terms of efficiency and errors. All too often, the technology and business processes put in place can become barriers to the worker's ability to execute. At OpenSpan, we believe there's a better way to work. By optimizing how human beings interact with processes and technology, you can improve not only the worker experience but the customer experience as a result.

Join OpenSpan for a compelling Webinar on August 21 as we introduce a new way of working for contact centers, hosted by the National Association of Call Centers' Executive Director Dr. David Butler and Research Director Paul Stockford. We'll explore how worker experience impacts customer experience, and how to improve interactions human-to-human and human-to-computer. Find out how to improve, measure and innovate both productivity and efficiency by starting where technology and people meet—on the agent desktop. Register for this important event today at http://www2.openspan.com/l/11522/2012-06-27/73rk2.
---
Call Center Comics!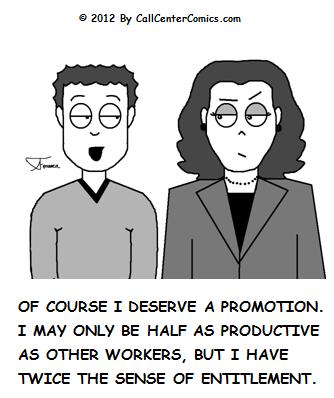 If you like this comic and would like to see more, write Ozzie at callcentercomics@yahoo.com and visit his website at http://callcentercomics.com/cartoon_categories.htm or just click on the comic to take you to his page. The NACC appreciates Ozzie letting us use some of his comics in our newsletter.
---
To view past issues of In Queue, please click here.

If you would like to contribute to In Queue, please reply to this email with "Contribute" in the subject line.
Copyright 2012 National Association of Call Centers