What's New in In Queue
Paul Stockford, Research Director, NACC and Chief Analyst, Saddletree Research, Paul.Stockford@nationalcallcenters.org

We continue to make progress on our new website and have begun to add content that is accessible to members. Immediately available is the Contact Center Mobility report that provides a benchmark for contact center professionals regarding support for customers making contact with a mobile device. I was surprised by the results, and I think you'll be surprised too.

The Mobility report can be accessed by regular NACC members and NACC volunteer members who participated in the survey. If you would like to join our volunteer member corps, I have a deal for you. All we ask is your participation in our infrequent surveys during the course of the year. We promise not to take more than 30 minutes of your time during that year. The Mobility survey was our first of 2012 and it only contained four questions, so it wasn't a real burden on volunteer members' time. If you have 30 minutes a year that you'd like to trade for a free NACC membership, including access to all reports and the new job board, please let me know. If you're interested please send me an e-mail with the word "Volunteer" in the subject line. You can reach me via e-mail at paul.stockford@nationalcallcenters.org.

We've finally started our blog on the new website, www.nationalcallcenters.org, and invite you to check in frequently to see what's on our minds. We promise we won't waste your time. There is a link to one of David Butler's blog postings in today's newsletter.

Today's newsletter also includes a discussion of First Contact Resolution from Lori Fraser of Strategic contact, and an article co-authored by Kevin Hegebarth of HireIQ and me that presents the argument that a comprehensive workforce optimization strategy begins with the hiring process, not the training process. As always, your feedback is welcomed! Paul.Stockford@nationalcallcenters.org or David.Butler@nationalcallcenters.org.

I'll be attending the Verint User Group meeting at the Sheraton in New Orleans from June 19 – 21. If you happen to be attending, please let me know or find me at the event.
---
FCR...Is Your Customer First or An Afterthought?
Lori Fraser, Consultant, Strategic Contact, Inc.
lfraser@strategiccontact.com
First Contact Resolution (FCR) is the holy grail of contact centers. It's arguably the most powerful key performance indicator (KPI) for a center, and certainly the "hottest." Service level (SL) and customer satisfaction (cSat) are contenders – one focusing on efficiency and the other on effectiveness. But FCR addresses what your customers really want – resolution with the first interaction. And yet it can be hard to define, much less achieve.
Strategy, Strategy, Strategy
Without an FCR strategy, nothing else matters. Strategy focuses your attention on customers and their experiences. It directs your attention on all forms of contact – phone, email, web, and mobile. It covers all of the teams that contribute to sales and service excellence – e.g., contact center, marketing, product development, distribution, etc. [There is no way to effectively address external customer issues if the internal teams aren't collaborating on resolution and continuous improvement!] FCR strategy elevates visibility on end-to-end processes that create efficient interactions. And it establishes the roadmap that prompts the organization to do the right things for actionable results.

FCR strategy affects everything in a center. It demands that each channel be staffed with the optimal skills, headcount, and schedule. It has something to say about how you route contacts and to whom you route them. It guides your initial and ongoing training plans for interaction handling. It drives resource development to provide information enabling quick contact resolution. It motivates you to align your quality monitoring (QM) and voice of customer (VoC) data to ensure that your internal assessment of performance lines up with customers' perceptions.

Organizations that take FCR seriously set a place for the customer at their decision tables. We've seen a significant increase in executive titles that focus on measuring and improving interactions with customers – e.g., Chief Customer Officer, Chief Customer Advocate, Chief Conversation Officer, and Chief Interaction Executive. Customer champions are pervasive in the contact center as well. All of these folks focus on the customer experience rather than their company's internal hoops, hurdles or dysfunctions. FCR is driving this evolution.

The evolution doesn't stop there. Visibility has increased on the customers' Level of Effort (LOE) and how it influences their perception of FCR. A companion metric – Reduction in Customer Effort (RICE) – gives rise to initiatives that positively influence FCR.
Is FCR Really Worth Pursuing?
As you think about pursuing FCR, you may see dollar signs on top of the challenges in getting organizational collaboration and process changes. If you think you can't afford the time, money and resources to focus this much on your customer, think again. The investments you will make reap rewards in both cost savings and revenue increases – both of which contribute to making it a popular metric. Customers obviously benefit from the great service they'll receive. Study after study has shown that good service encourages loyalty, which of course adds to revenue. Technology is a key enabler for FCR and delivers tangible ROI. Streamlined desktops enhance operational efficiency, and knowledge tools elevate responsiveness and consistency. Training and access to subject matter experts are both investments that can help resolve a contact quickly and close a sale. These are just a few examples of the benefits from the focus on and investments in FCR.
Start Simple…But Start Now!
Where are you in your FCR quest? What's holding you back? They say the first step is the hardest, so start where you can have the greatest customer impact. Four steps and you'll be on your way:
Establish an FCR strategy – keep it simple, so you can get going

Start with your highest usage channel (likely calls) with an eye toward your next steps with other channels

Read up on ways to measure FCR and enabling technologies

Develop a plan to pursue FCR in your center, addressing people, process and technology
Your customers and staff will thank you!
---
Mobility Study Results Now Available
Paul Stockford, Research Director, NACC and Chief Analyst, Saddletree Research, Paul.Stockford@nationalcallcenters.org
The following excerpt is from the Contact Center Mobility study we just published. It is available to members through the NACC website. If you are interested in NACC membership and access to this type of industry data, please visit http://www.nationalcallcenters.org/membership.html.

Date: May 24, 2012
Author: Paul Stockford
Paul.Stockford@nationalcallcenters.org

Subject: Contact Center Mobility Study

The combined population of the U.S., Puerto Rico, Guam and the U.S. Virgin Islands is 315 million people. Within this population there are, according to the CTIA – The Wireless Association®, about 327.6 million wireless devices in use. Approximately 40 percent of all mobile phones in use in the U.S. are smart phones. Given the rapid decline in smart phone pricing, the NACC believes that smart phones will be the majority of mobile devices in use within the next two years.

The ubiquity of mobile devices combined with the rapid penetration of smart phones and tablet computers should be of interest to the contact center industry in general. The next generation of consumers, the millennial generation, has already demonstrated a preference for using their mobile communications devices for everything from telling the time to updating their social media status. According to a 2011 Microsoft Tag study, the activities and applications illustrated in Figure 1 below represent what mobile phones are used for in the U.S. population of mobile device users.
---
What's New In The NACC Blog? Business Process Mapping Part Four....
David Butler, Executive Director, National Association of Call Centers David.Butler@nationalcgallcenters.org
An article from January 12, 2012, titled, "Another e-retailer brings its call center back to the United States," caught my eye. These sorts of articles are nothing new. Most of the time when I talk with reporters about the industry one of the most common questions asked is, "Is it not true that most call centers are coming back from overseas?" I am less interested in whether or not eBags Inc. is bringing its call center back to the United States from the Philippines and more the reason given for bringing the call center back. The answer to the reason why eBags brought its call center back are multifold: customer service, information technology improvements, fulfillment upgrades that reduced the need for 24 hour customer service calls, talent/skills of the American workforce, first call handling ability, and an increase in sales both volume and per order.
Embedded within the story is an unstated situation. The call center costs of a customer service company in the United States is going up. The manager or director of the call center/contact center does not have the skills, education or data to explain the value-added the call center brings to the full customer experience and thus the bottom line of the company. A third party call center company offers the executives of the company huge savings with the same or increased customer service. The company bites and then is faced with a overseas contract. The customers of this company begin to see declining customer service which is always followed by decreases in sales and revenue within the next few quarters. An executive, or an outside consultant, is hired to find out what is the matter with the company. The problem is found to be the customer experience. A decision is made to bring the call center operation back in house and back to the United States. However, and this the kicker, the call center cannot be brought back and put together again the way it was before it was offshored. Instead, it needs to be remade from top down and bottom up as a fully integrated piece of the company and when the call center succeeds with customer contact, the business improves.
It is not necessary to offshore your call center, lose market share, and spend weeks, months or years trying to figure out what is wrong. To skip this step you need to create a Business Process Mapping exercise, from top to bottom and bottom to top, and then once this is understood, fix it to they way it should be run rather than how it is currently managed and operated. Save your organization the headache and expense of the offshoring pain, make continuous improvements each year to the operations to meet the market and customer needs. To make these changes each year you need to understand your business and to understand your business you need to integrate process mapping as part of your strategy for success.
When creating Business Process Map of an organization the people in the organization need to support the exercise. More on that in Business Process Mapping in Part 5.
---
High Performance Workforce Optimization Starts With Effective Hiring
Kevin Hegebarth, Vice President, HireIQ, www.hireiqinc.com
Kevin.Hegebarth@hireiqinc.com
Paul Stockford, Research Director, NACC and Chief Analyst, Saddletree Research, Paul.Stockford@nationalcallcenters.org
Workforce optimization (WFO) is widely accepted operational strategy that blends quality monitoring, workforce management, e-learning and agent analytics disciplines and technologies. The notion of WFO is that these technologies, well integrated with each other, can help agents perform at their peak by identifying and rewarding well-performing agents, and for identifying those who need coaching to achieve a higher level of performance. However, WFO is typically applied only once agents are placed on the call center floor and do not factor into the critical pre-employment phase. It sounds obvious, but hiring the right agents in the first place makes an effective WFO strategy much more achievable.

Fine-tune the Hiring Engine to Recruit Better-Qualified Agents

Despite the entry-level nature of many call center jobs, it can often take weeks to fill open positions, putting further stress on center operations. Contact center line management is frequently enlisted to help the hiring and recruiting team clear the hiring backlog, which leaves less time for critical agent coaching and training.
Factors such as high agent turnover, center growth and seasonal hiring frequently result in hiring marginally qualified applicants just to fill open positions. It doesn't necessarily mean that these agents won't perform well over time, but it does often mean that these agents need longer to ramp-up, need more frequent coaching and will only marginally achieve their objectives. This is a contributing factor to the high attrition levels experienced by some centres, which merely begins the cycle all over again.
The results of the NACC's most recent survey of members and subscribers indicates that recruitment and hiring are still critically important issues in the contact center industry. 38.5 percent of survey respondents reported that they will be hiring additional agents during 2012 while an additional 52.9 percent indicated that they will hire agents to replace those who leave as a result of normal turnover. To put this in perspective, 91.4 percent of survey respondents, which is representative of the industry as a whole with a confidence factor of 95 percent, expect to hire new agents during 2012.
To gauge the cost of personnel turnover, we asked NACC survey participants what they estimate to be the cost of recruiting and training one new agent. The results are graphically illustrated in the Figure 1 below.

Figure 1: Estimated Cost to Recruit and Train One New Contact Center Agent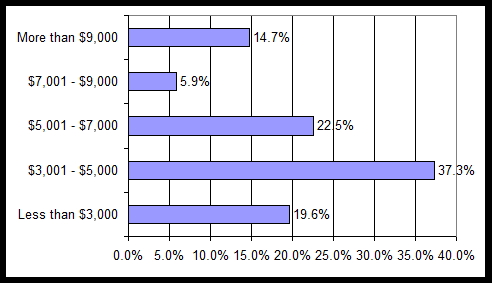 Source: National Association of Call Centers (NACC)

Given the assumption that an effective hiring plan would have even a marginally positive affect on turnover rates, the potential of cost savings could be staggering.
Consider, for example, the potential effect on the overall contact center market. According to the United States Department of Labor, Bureau of Labor Statistics, approximately 2.2 million Americans are employed as customer service representatives. Factor in a 2% annual growth rate, in addition to an average turnover rate of approximately 30% as reported to the NACC, over 700,000 call center jobs need to get filled every year. Even by using $5,000 as the nominal cost to recruit and train each new agent, this represents a $3.5 BILLION business. Even very small improvements in the attrition rate and/or costs to hire can have significant impact for call centers of all sizes.
The cost of poor hiring is measured not only in the money spent on recruiting and on-boarding, but also in the cost of unsatisfied customers and lost production. During the hiring process, candidates are often subjected to a variety of assessments and tests that are designed to determine their proficiencies in certain areas. However, there is little effort to discover whether or not these methods can actually predict a measureable impact on the metrics that are important to the organization – things like sales conversion rate, first call resolution, customer satisfaction and so on. This is a big disconnect between the recruiting staff and its key stakeholder - the call center operation. The recruiting organization may feel as if it is fulfilling its mission by filling open positions when it is, in fact, merely creating more work for itself by often hiring less-than-ideal candidates.

Improved Hiring Drives Improved Performance

The recruiting team should engage with center operations to understand what attributes make an effective agent specific to the role. One way to do this would be look back over previous interview and assessment results to find the attributes that are common among the exceptional performers, but absent among the others. Armed with this valuable correlation information, recruiters can tailor the interview and assessment process and look for candidates who exhibit those desirable traits. The result is better-qualified candidates who are more productive in a shorter amount of time. Over time such data can be helpful to understand which combination of pre-hire evaluation tools yield the best on-the-floor performance results. By knowing which pre-hire interview questions, assessments and tests yield the best-caliber candidates, companies can greatly sharpen their recruiting methods, reduce time to fill positions and place better qualified candidates at a lower cost of recruiting.
This approach has the potential to dramatically improve the effectiveness of a company's WFO investment. Armed with the knowledge of what constitutes a well-performing agent, the recruiting staff can find themselves in the enviable position of adding significant value to the organization as a whole. Establishing a close partnership with stakeholders and having a keen understanding of the pre-hire factors that result in excellent on-the-job performance mean that recruiters elevate their standing in the organization and become more directly responsible for its success.
---
Call Center Comics!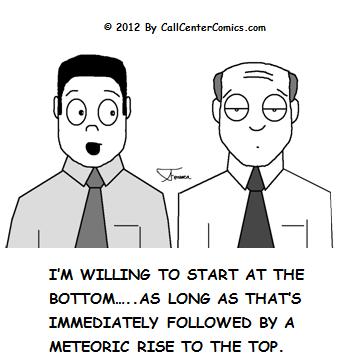 If you like this comic and would like to see more, write Ozzie at callcentercomics@yahoo.com and visit his website at http://callcentercomics.com/cartoon_categories.htm or just click on the comic to take you to his page. The NACC appreciates Ozzie letting us use some of his comics in our newsletter.
---
To view past issues of In Queue, please click here.

If you would like to contribute to In Queue, please reply to this email with "Contribute" in the subject line.
Copyright 2012 National Association of Call Centers