What's New in In Queue
Paul Stockford, Research Director, NACC and Chief Analyst, Saddletree Research, Paul.Stockford@nationalcallcenters.org

The NACC Needs Your Help! Last month we launched our annual end-of-year survey, the results of which provide a foundation for the research we'll undertake next year. The results of the survey will be published throughout the next year in this newsletter so you can benchmark your attitudes, opinions and intentions against those of your industry peers. Your participation in this survey is critically important. The more participants we get, the better the results and the more useful the information.

The survey contains all closed-ended questions and can be completed in about three minutes. Please go to https://www.surveymonkey.com/s/2012NACCsurvey to participate. Not only will you be providing valuable assistance to the NACC, your input will provide all of us with better insight into the customer service profession.

We are still looking for a few more volunteer members who would like to trade 30 minutes of their time during the course of a year for an annual NACC membership at no cost. NACC membership gives you access to reports, our Job Board, business opportunities as they come to us, and the opportunity to tap into the membership network for inquiries, advice and review. We promise to ask for no more than 30 minutes of your time in total to participate in our brief surveys during the course of the year. It's a great deal. If you'd like to join us, send me an e-mail with the word "Volunteer" in the subject line and I'll set up your membership. If you have questions, don't hesitate to contact me.

Speaking of Survey Results: At-Home Agent Report! If you'd like an example of how survey results are presented to NACC members and subscribers, take a look at my article on at-home contact center agents below. The stats in this article are based upon the at-home agent survey we conducted a couple of months ago. What we wanted to do was try to quantify the acceptance of at-home agents in the industry. We hear lots of qualitative talk about the benefits of having some or all of your agents work from home, but I believe this is the first qualitative analysis that is based on talking to customer service professionals rather than vendors.

Our surveys tend to present a different picture of the market – one that allows you to gain a better understanding of what your peers and colleagues are doing and provides you a benchmark that can become part of your own decision mix. That's why it's so important that you participate. Once again, please help us provide you with better information by participating in our annual survey. Here's the link: https://www.surveymonkey.com/s/2012NACCsurvey

Real-Time Performance Management Podcast and Webinar. Earlier this year, we undertook research to gain a better understanding of real-time performance management reporting versus traditional performance management solutions. The survey results are now available in a podcast I recorded with Patrick Botz of VPI. If you've got 10 minutes and this technology is of interest to you, you can download the podcast here. You're also invited to join me in a webinar covering the survey results and a case study of 1-800-FLOWERS.com next Thursday, 11/8. I'll be presenting survey results and Patrick will be presenting the case study. To register for the Webinar just click here.
---
Plantronics Provides A Hand Up
Paul Stockford, Research Director, NACC and Chief Analyst, Saddletree Research,

Paul.Stockford@nationalcallcenters.org
A few months ago, I was contacted by Ronald Johnson, Development Director at Kairos Services in Memphis, TN (

www.kairosmemphis.org

). Kairos is a non-profit corporation that contracts with the Tennessee Department of Human Services to help Families First customer's transition from welfare to work by providing opportunities to develop the job skills necessary for self sufficiency. In other words, Kairos helps those who are looking for a hand up on their way back to becoming productive, contributing members of society.

With the many contact centers in the Memphis area, Ronald's idea was to develop a customer service training program on the second floor of the Kairos building in Memphis. The second floor of the building is essentially empty with the exception of 30 cubicle workstations that are already wired for telephone but not much else. The objective is to develop individuals with sufficient training that they would be attractive candidates for agent positions in local contact centers. Ronald initially came to the NACC looking for training ideas or programs that Kairos could tap into. Our conversation, however, got much deeper into Kairos' mission and objectives and we felt compelled to help however we could.

I sent an appeal to the members of the NACC and to my Saddletree Research clients asking for assistance and support for this very worthwhile organization. While I have to admit that I was generally underwhelmed by the response to my plea, I was overwhelmed by the fast and generous response from the folks at Plantronics (

www.plantronics.com

) in Santa Cruz, CA.

Within a week of my request for assistance, Plantronics' Senior Manager of Contact Center Marketing, Neil Hooper, sent me an e-mail informing me that Plantronics would be happy to donate 30 brand-new, state-of-the-art headsets to Kairos to assist in their efforts. These headsets are now in place in Kairos' training-center-in-the-making.

Kairos still has a long way to go. They lack computer workstations and, more importantly, the type of e-learning and contact center simulation training software that will be critical to their success. If your company can make any contribution to Kairos' worthwhile effort, please contact me for more information.

In the meantime, Plantronics' swift response and generosity says a lot about the company and its concern for more than just bottom line profit. It is my genuine hope that Plantronics serves as an inspiration to others as we enter the season of giving. I encourage you and your company to consider joining Plantronics in giving a hand up to those in need.
---
Quantifying The At-Home Agent Trend - NACC Survey Results
Paul Stockford, Research Director, NACC and Chief Analyst, Saddletree Research,
Paul.Stockford@nationalcallcenters.org
Beginning with the creation of Jet Blue's virtual contact center of a decade ago, in which the entire customer service function was comprised of agents working from home, the U.S. contact center industry has been intrigued with the idea of having an at-home agent workforce. While very few contact centers have been as bold as Jet Blue in terms of creating an entire virtual contact center, the population of at-home agents is definitely on the rise.

There has been much discussion within the industry regarding the trend toward at-home agents, but the conversation has been qualitative rather than quantitative. We undertook to verify the trend by looking at data that would quantify the current state of the industry and perhaps provide a forecast of how the at-home agent population will change in the future.

To gather the data we needed we turned to the membership of the NACC, which we believe is representative of the population of U.S. contact centers as a whole. We asked a brief series of questions regarding the current state of at-home agents as well as asking respondents to share their attitudes and intentions toward at-home agents over the next couple of years. The responses verified that not only does the at-home agent trend exist, contact centers that have some percentage of their agent personnel working from home now represent the majority of contact centers in the U.S. Of the 70 companies interviewed for this study, 53 percent reported that at-home agents comprise some part of their agent workforce.

To better understand the magnitude of the at-home agent trend we asked our respondents what percentage of their agent workforce is represented by agents that work from home. Responses are illustrated in Figure 1 below.

Figure 1: Percentage of Agent Population Represented by At-Home Agents
| | |
| --- | --- |
| Less than 10% | 55.3% |
| 11% - 25% | 21.1% |
| 26% - 50% | 13.2% |
| 51% - 75% | 7.9% |
| 76% - 99% | 2.6% |
| 100% | 0.0% |
Source: NACC
To determine the direction of the at-home agent trend we asked our respondents if they anticipated a change in the number of their agents who will be working at home in the future. Results are illustrated in Figure 2.
Figure 2: Anticipated Change in Percent of Agent Workforce Working At Home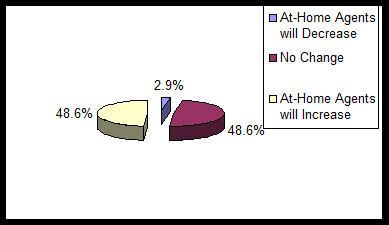 Source: NACC

With the market evenly split between those who will increase the number of their at-home agents and those who anticipate no change, we asked those who will be increasing their at-home agent workforce by what percentage the at-home agent workforce will increase. Results are shown in Figure 3 below.

Figure 3: Percentage Increase in At-Home Agent Population
| | |
| --- | --- |
| Less than 10% | 35.1% |
| 11% - 25% | 43.2% |
| 26% - 50% | 16.2% |
| 51% - 75% | 2.7% |
| 76% - 99% | 0.0% |
| 100% | 2.7% |
Source: NACC
The majority of those who will be increasing their at-home agent workforce, 45.9 percent, reported that they anticipate the increase will take place during the next 13 to 24 months. 35.1 percent of respondents expect to increase their at-home agent population within the next year.

Clearly the at-home agent movement is gaining popularity in the U.S. contact center industry. This newly emerging workforce will require a somewhat different set of skill sets than their in-house peers. In the next week we'll be posting a podcast in which Kevin Hegebarth of HireIQ will be discussing the at-home agent phenomenon with me. The podcast can be found

here

.

NACC members can expect a more in-depth report on the at-home agent survey results in a report that will be posted to the NACC website in November.
---
Call Center Comics!

If you like this comic and would like to see more, write Ozzie at callcentercomics@yahoo.com and visit his website at http://callcentercomics.com/cartoon_categories.htm or just click on the comic to take you to his page. The NACC appreciates Ozzie letting us use some of his comics in our newsletter.
---
To view past issues of In Queue, please click here.

If you would like to contribute to In Queue, please reply to this email with "Contribute" in the subject line.
Copyright 2012 National Association of Call Centers