Contact Center Orientation


Mark Pereira, Trainer/On-Site Supervisor, Briljent, LLC

mpereira@briljent.com
This month's lead article/infographic is a submission from NACC member Mark Pereira, Trainer/On-Site Supervisor at Briljent LLC. This is Mark's original work. We appreciate Mark's support of this newsletter and encourage other NACC members to contribute their articles and stories to In Queue. Mark can be reached at mpereira@briljent.com ~ Editor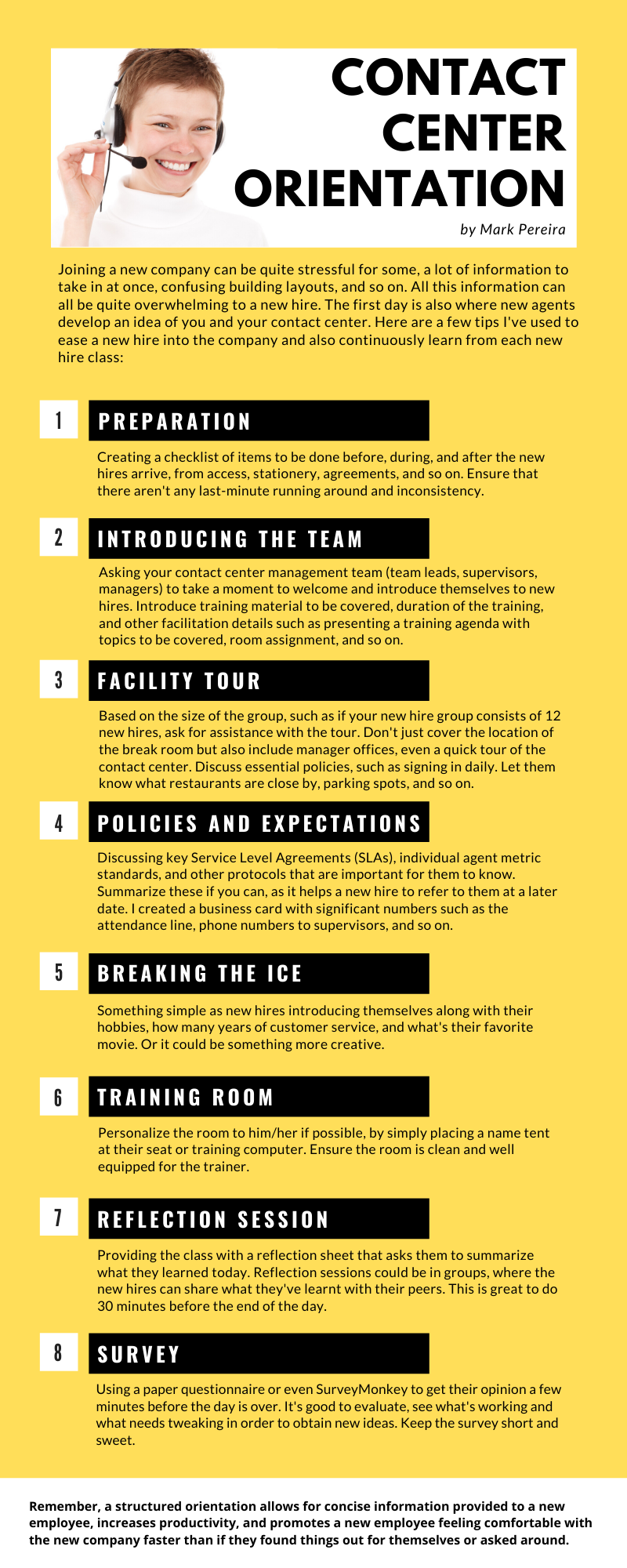 Spotlight On Analytics


Paul Stockford, Research Director, NACC and Chief Analyst, Saddletree Research
Paul.Stockford@nationalcallcenters.org

The results of this year's NACC/Saddletree Research survey of contact center professionals revealed that analytics is at the top of the heap of contact center technologies that have been funded for purchase in 2020. Over 11 percent of respondents reported that they have funded analytics for purchase this year. In real terms, that's somewhere north of 8,300 contact centers that will be implementing analytics at some point in 2020.
I try not to miss a chance to continue learning about analytics and its role in the contact center and this past October one of those learning opportunities presented itself at Calabrio's C3 customer conference in San Antonio. If you are a reader of my monthly column in Contact Center Pipeline magazine, you may remember that this was the topic of my December 2019 column. For those of you that didn't see the column when it was published, you can find it
here
. I hope you'll take a moment to read it.
The backstory starts at Calabrio C3 in 2018, when Calabrio CEO Tom Goodmanson issued an analytics challenge to Calabrio customers in the form of a contest to showcase their best use of Calabrio analytics. The winner of the contest would take home to his or her company a $50,000 first prize and second and third place contestants would take $25,000 each to their employers.
At Calabrio C3 2019 the winners of the contest were announced. First place went to Radial, Inc., a bpost Group Company, and their use of analytics to not only optimize the customer experience in the highly competitive BPO market, but to also realize nearly six figures in immediate savings as a result of improvements in first call resolution (FCR).
Calabrio has just published an
ebook
entitled, 3 Award-Winning Analytics Success Stories, in which they detail the application of analytics in the contact centers of the three 2019 contest winners. The book explains the role analytics played in each company's customer-focused transformation and its impact on operational costs.
The ebook is available for download at no cost
here
.
If you're still evaluating analytics to better understand how it might impact your contact center, I highly recommend you
download this ebook
and and dig into the details of these analytics success stories. It will be time well spent.

Voice In The Contact Center: Does It Still Matter?


Paul Stockford, Research Director, NACC and Chief Analyst, Saddletree Research
Paul.Stockford@nationalcallcenters.org

With all the talk about, and concern for, the digitization of the contact center, the question of whether or not voice still matters in the customer service profession, or will still matter in the future, is often raised. In this
podcast
, I discuss exactly that question with NICE Nexidia's Abby Monaco. I back up my argument with plenty of relevant data that readers of this newsletter will likely find interesting and possibly even useful as you discuss the future role of voice in your contact center.
I had a lot of fun recording this
podcast
and I hope you'll experience that when you give it a listen. Abby is a great podcast partner and has some pretty strong arguments of her own. If you've got ten minutes,
download this podcast
here and see what you think. Does voice in the contact center still matter?