Call Quality Monitoring Best Practices: Making The Case For Collaboration


Marcia Jenkins, Senior Operations Manager, Quality Contact Solutions
marcia.jenkins@qualitycontactsolutions.com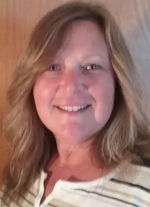 Here's the most common issue. All too often,
quality assurance
is a remote department rarely seen and never directly heard from. In my experience, a really great call center team works to integrate the feedback to the agents to ensure a consistent message is delivered to the agents. Quality assurance is not on an island or behind closed doors. Quality assurance is part of the team.
If you are hiring an
outsource call center provider
, I'd advise that before you make a selection be sure the candidate company has a good process for working with the agents. Supervisors and quality assurance staff should work together to drive home your key metrics and ensure all agents are getting streamlined feedback. What the Supervisor is coaching and what the quality assurance says should be in line as they collaborate with each other, the client and the front-line agents. They should be sharing what they hear on call monitoring and working together to get that back to the agents.
Call quality monitoring best practices: Providing consistent feedback must be prioritized
The best call center operations ensure that both supervisors and quality assurance invest the time in each agent to be successful. Time is hard to find, but at the best call center, operations make it a focus. Finding time up front saves time in the long run. It helps when our efficiencies and performance expectations are aligned. When call monitoring feedback is provided to the supervisors and to the broader team it helps ensure that everyone is aware of what is working and what is not working.
Call quality monitoring best practices: Celebrate the improvements
Great call center service providers know that along with collaboration and investing time, we must also take time to celebrate! A good call center will have good incentive programs to keep the agents engaged and working to potential! Working on the phones all day every day can be a grind. Agents knowing that when they are successful or display something, they recently were coached on will be celebrated makes it special! It can be monetary, a physical prize or recognition of a job well done but celebrating matters! I recommend giving your quality assurance team a budget for the prizes and incentives to utilize as tangible recognition for the front-line team.
Quality Contact Solutions has the best
team
around and that team extends to our owner-operated call centers. We know what to look for and how to meet your contact management services goals. If you're looking for a team that has the ability to work collaboratively, celebrate personal bests and provide a great experience for your customers, give us a call at 1-866-963-2889 and press 1 for sales. Or email me at
Marcia.Jenkins@qualitycontactsolutions.com
.
Marcia Jenkins is the Senior Operations Manager for Quality Contact Solutions. Prior to joining Quality Contact Solutions, Marcia was a sought- after 10-year call center veteran with the ability to manage and sell. Marcia is responsible for the day to day operations for the At Home Division. QCS At Home is a work-from-home telemarketing and call center solution focused on business to business outbound telemarketing, test-bed projects and special programs which are typically not well-suited for the traditional brick and mortar call center.

Insomniac Theater: What's Keeping NACC Members Awake At Night?


Paul Stockford, Research Director, NACC and Chief Analyst, Saddletree Research
paul.stockford@nationalcallcenters.org

The National Association of Call Centers (NACC) has a couple of functions. We're primarily focused on market research. Research was the goal when the NACC was founded at The University of Southern Mississippi in 2005. Over the years, the NACC has also become a community for our members. NACC members have the opportunity to tap into an incredibly rich reservoir of information in the form of the contact center experience our membership possesses. Through our membership inquiry process, in which I put those in need of information or advice in touch with those members who have the appropriate experience and are willing to help, the NACC is a community that supports each other.
Please note: if you are one of the dozen or so organizations that seems to contact me every month looking to unload vacant property or fill a contact center position, the NACC is not in the real estate business nor are we an employment agency.
Occasionally, our two primary functions intersect, which was the case last month when I asked via an informal poll what it was keeping NACC members up at night when thinking about the year ahead. While this informal poll is not scientific, it is nonetheless revealing. In an industry dominated by discussions around artificial intelligence (AI) and digital transformation, those particular topics, while mentioned, were not what was keeping the majority of NACC members up at night when thinking about 2020.
Figure 1 below represents the top five poll responses; i.e., those topics mentioned the most times by the poll participants. Participants were allowed and encouraged to mention as many important issues as they had.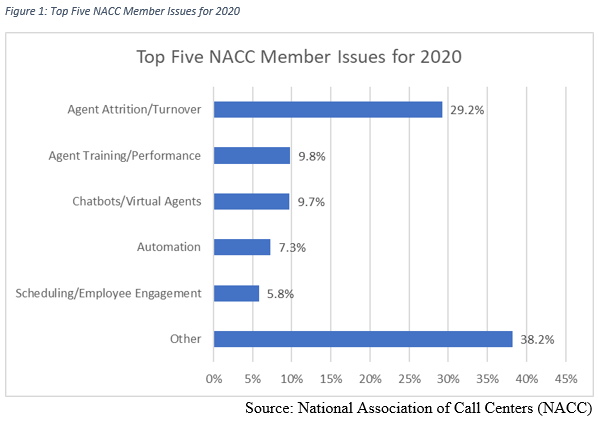 Not surprisingly, employee issues dominate the concerns for most contact centers going into 2020. This was also the case for the contact center industry over the past two years. Employee engagement in one form or another always seems to be at top-of-mind for the industry.
Other issues/topics were mentioned less than five percent of the time, but some of those issues included:
• Artificial Intelligence (AI)
• Digital Transformation
• Omnichannel
• Speech Analytics
• At-home Agent Workforce
• Gamification
• Cloud
Given the changes occurring in the contact center industry, it wouldn't surprise me to see some of the topics mentioned above intersect with others in order to address the overriding issue of agent attrition and turnover. For example, automation is bound to make an agent's job more satisfying as routine, repetitive work is turned over to digital agents.
Likewise, virtual agents will divert more routine calls from agents than IVR has ever been able to do. Chatbots will ensure that only the most complex, challenging calls go to agents, likely leading to greater job satisfaction. Gamification will also add a degree of fun, reward and recognition to the agent's job.
It could be said that in the contact center industry over the past few years, the more things change, the more they stay the same. Leaders still have to deal with limited budgets and are being told to do more with less, sometimes feeling that executive management is out of touch with the customer care function. And, of course, agent attrition remains the biggest challenge these leaders face in the year ahead.