It's not very often that a contact center customer conference starts with a moment of silence to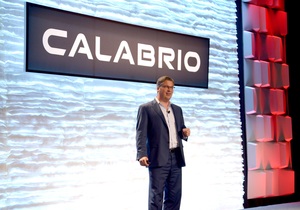 remember and honor those who had been killed or injured the night before, but that's the way Calabrio's C3 customer conference in Las Vegas started on Monday, October 2nd. Rather than the usual high-decibel music, flashing lights and booming announcer voice that typically accompanies the opening session of customer conferences, this one started in a quiet, dignified manner when Calabrio CEO Tom Goodmanson took the stage and spoke in a respectful tone about the events of the previous night.
I'm sure readers of this newsletter already know of the horror that struck the Las Vegas strip at around 10:30 p.m. on Sunday, October 1st. Those of us attending Calabrio C3 were lucky enough to be about 15 minutes away from the strip at the Red Rock Resort and Casino in Las Vegas, so we were nowhere near the scene of the crime, but I don't think anyone in the room for the keynote on Monday morning wasn't affected one way or another by the events of the previous night.
After everyone observed a moment of silence and reflection, CEO Goodmanson began a keynote address focusing on employee engagement. Not only did Goodmanson emphasize Calabrio's commitment to its employees, he stated that Calabrio employees were his top priority followed in second place by customers and finally, Calabrio investors. It was clear that this keynote was going to have a strong focus on employee engagement.
Throughout the presentation, Goodmanson talked about his and Calabrio's desire to help their customers, and the contact center industry in general, to achieve what he phrased as "zero attrition" in the industry. The NACC estimates that average turnover in the U.S. contact center industry stands at about 40 percent annually. While zero attrition is a lofty goal for the industry, it is also a worthwhile goal and one that Calabrio is committed to.
The keynote address also gave Goodmanson the opportunity to announce the availability of both workforce management and analytics managed services. He related a recent success for Calabrio's cloud contact center in the rapid deployment of 4,000 agents to support Hurricane Harvey rescue and relief efforts in partnership with Teletech.
The keynote was also the first opportunity for many Calabrio customers to get to know Symmetrics, the company Calabrio acquired in April of this year. Symmetrics enables access and integration of data from multiple supporting systems, including omnichannel routing systems, workforce management, customer relationship management, voice analysis, human resource management systems and custom-built applications. The platform provides customer-specific performance management measurement so business users and leaders can readily access the metrics they need in the format they prefer. Symmetrics blends unstructured and structured data in any format and from any source into an intuitive, holistic view of the organization.
Following the keynote session attendees broke up in order to attend the highly focused breakout sessions that addressed a number of industry and Calabrio-specific topics. With as many as seven concurrent sessions addressing different topics, there was no shortage of opportunities to learn, to contribute and to network.
There was also no shortage of energy and enthusiasm from any of the attendees I met and/or had the opportunity to interact with during the breakout sessions. Generous break times and networking events gave all attendees more than ample opportunity to get to know their peers and plenty of time to explore Calabrio and partner products in the product showcase.
I have attended many of Calabrio's customer conferences over the years and they just keep getting better. The venue for this year's C3, the Red Rock Resort and Casino, was spectacular with a logical layout of the conference area that made it easy to navigate from one session to the other, find where the meals were being served, and most importantly, where the parties were after the day's sessions were over!
Calabrio is clearly a company on the move, and the movement is in the right direction. The growth in size and attendance of C3, which I have personally witnessed for the past several years, is testament to the way Calabrio treats both its employees and its customers. In order to accommodate this growth, next year's C3 will be held at the Gaylord Opryland Resort in Nashville.
Calabrio's C3 customer conference, like Calabrio itself, was and is a true class act. To learn more about Calabrio CEO Tom Goodmanson, be sure to read my column from the December 2016 issue of Contact Center Pipeline magazine, which can be found
here
. To learn more about Calabrio, visit
www.calabrio.com
.