Our Contact Info:
Paul Stockford
Research Director
National Association of Call Centers
100 South 22nd Avenue
Hattiesburg MS 39401
Tel: 480.922.5949
paul.stockford@nationalcallcenters.org
www.nationalcallcenters.org
Circulation
In Queue circulation 16,653
Advertise with Us
Click on the image below to view the NACC Advertising Page where you can view our channels and prices.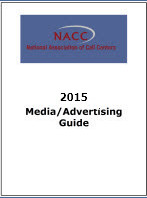 To advertise with the NACC, please contact the NACC at:
Tel: 601.447.8300
Fax: 601.266.5087
Email: paul.stockford@nationalcallcenters.org
Underwriters
All leading call center companies and suppliers should examine the NACC Underwriting opportunity in 2015 as evidence of their dedication to the growth of the call center industry. See the NACC Advertising Page for more information.
Share the Knowledge
Send this newsletter to colleagues by clicking "Forward this message to a friend".

Quote
"Don't worry about failures, worry about the chances you miss when you don't even try."
~ Jack Canfield
Reports from the NACC
The NACC has been burning the midnight oil and typing until our fingers are sore to bring out reports to our members. Each is listed below. If you are interested to see what we are writing about, click on the links below and download the executive summary of each. If you like what you see, join the NACC so that you can view these reports and others that will be coming out soon on our website. These reports will ensure that you know the latest trends in the industry.

---
Omni-Channel, Multi-Channel...Change-The-Channel
Paul Stockford, Research Director, NACC and Chief Analyst, Saddletree Research,
Paul.Stockford@nationalcallcenters.org
Omni-Channel customer communications and service has unquestionably pushed aside the cloud as the topic of greatest interest in the 2015 contact center industry. And why not, since it makes so much sense?

According to the preliminary results of our 2015 survey virtually every contact center in the U.S. offers traditional telephone-based customer service. Beyond that, 92 percent support e-mail customer communications and social media support is at over 50 percent and rising. These multi-channel contact centers are ideal candidates to move to omni-channel customer communications. In fact, about seven percent of these contact centers are supporting omni-channel.

With so much attention being paid to omni-channel customer communications, it is not surprising that there is quite a bit of confusion in the industry regarding exactly what constitutes an omni-channel contact center and why anyone should care. With so many potentially contradictory reports, webinars, articles, and general shouting about omni-channel floating around the industry at the moment, the NACC has decided to change the channel.

I have recorded a podcast with Annette Meisbach of inContact that discusses exactly what omni-channel is, how it differs from multi-channel communications, the role of omni-channel in the contact center, and the impact of omni-channel on customer service. We did all of this in a podcast that lasts less than 12 minutes and can be downloaded to your iPod or iPhone or listened to in its entirety in about the time it takes you to drink a cup of coffee at your desk.

The podcast can be downloaded at

http://www.nationalcallcenters.org/Table/Podcasts/

.



We know you don't have time to attend the dozens of webinars you're invited to each week and read the multitude of white papers you're asked to download, but if you have 12 minutes and a set of headphones, you're guaranteed to learn something useful with a minimal time commitment.

To download the podcast now, go to

http://www.nationalcallcenters.org/Table/Podcasts/

.
---
Contact Center Certification With ICMI
(I was recently contacted by an NACC member who wished to have his contact center certified. Although the NACC doesn't offer site certification I didn't want to leave the member without an answer so I contacted Brad Cleveland at ICMI who assured me that ICMI could provide the certification our member desired. I asked Brad's colleague, Todd Piccuillo, if he would provide a summary of ICMI's site certification process and it is included below. I have also included Todd's contact information for those interested in site certification.)

Do you want your contact center to be recognized by an industry leader for operating at "world class" levels? Do you want to understand where your performance gaps are and, more importantly, how to close them and improve efficiency, quality and customer experience?
ICMI Site Certification provides organizations with a powerful framework by which to gauge their progress towards best practice. More specifically, it is an operational performance improvement program that increases the contact center's operational efficiency and strategic value while providing a meaningful certification that leads to increased customer loyalty and satisfaction.
ICMI Site Certification Program assesses the maturity and effectiveness of your processes related to several critical areas, including customer focus, performance results, leadership and constancy of purpose, process management, people development and involvement, continuous improvement and innovation, and stakeholder alignment.

Organizations seeking ICMI Site Certification take part in a four-step process:
Remote data gathering

On-site observations of your processes and workflows, stakeholder interviews and focus groups

Gap analysis and recommended corrective actions

Certification
ICMI Site Certification provides contact centers with the following benefits:
Meaningful certification. ICMI is a recognized thought leader in the contact center industry and its threshold for awarding certification is rigorous. As a result, an ICMI Certified contact center is recognized as a world-class provider of customer service.
Increased operational efficiency. In designing its Site Certification program, ICMI calibrated its Standards with best practice. An ICMI Certified contact center has standardized its operational processes with these best practices and thereby provides world-class customer experiences with a high degree of operational efficiency.
Enhanced customer loyalty. With performance improvement across all aspects of contact center operations, an ICMI Certified contact center provides a high quality customer experience. Research has shown that there is a high correlation between the quality of the customer experience and customer loyalty.
Greater strategic value. By coupling more effective use of business and customer intelligence with enhanced cross-functional collaboration and communication, an ICMI Certified contact center operates as a strategic asset for the organization. This helps ensure that the contact center's resource needs are met.
Continuous improvement. Through more effective use of business and customer intelligence coupled with implementation of closed loop feedback processes, an ICMI Certified contact center excels at continually improving its operations. This helps to ensure that the contact center continues to operate efficiently, foster customer loyalty, and maintain, if not augment, its strategic value. It also enables the contact center meet evolving customer needs and expectations. Finally, it helps the ICMI Certified contact center maintain standards compliance, thus facilitating re-certification.
Significant publicity of certification designation. As part of its Site Certification program, ICMI offers significant, wide-ranging publicity of certification awards through PRNewswire's worldwide reach into mainstream and business readership (PRNewswire is one of ICMI's sister companies) as well as ICMI's reach across the customer management profession. This allows an ICMI Certified contact center to enjoy the benefits of certification as a competitive differentiator in an immediate and powerful way.
To learn more about ICMI Contact Center Certification, contact Todd Piccuillo, ICMI Services Sales Director, at 203-242-6632,

tpiccuillo@icmi.com

.
---
Managing Absence In The Contact Center
Paul Stockford, Research Director, NACC and Chief Analyst, Saddletree Research,

Paul.Stockford@nationalcallcenters.org
We were recently contacted by another not-for-profit industry organization, the Disability Management Employer Coalition (DMEC), regarding an event that they are organizing in Irving, TX, on March 26th. As part of their 2015 leadership series, this half-day event is called "Best Practices in Managing Absence in Call Centers" and features panelists from companies such as Vertex and Pacific Gas and Electric Company. According to the DMEC:

This workshop will explore strategies, successes, and challenges that employers face when trying to reduce the impact of absence in call centers, and we will identify the contributing factors to high absence.
Hear from employers who are trying to develop leave management strategies for this group of employees and who will share the elements of their absence management programs.
Gain insight into the advantages and drawbacks of various approaches, and the internal and external factors impacting absence in customer contact centers.
Connect and network peer-to-peer as you share your program's strategies, challenges, successes, and failures.
Come away with new ideas.
Here's the best part for those of you in the Dallas area – the event is free and includes breakfast and parking. On top of that, all participants will receive a complimentary copy of a recently published white paper entitled "Best Practices in Managing Absence in Call Centers."

For more information and to register for this unique event, go to

http://dmec.org/2015/01/07/upcoming-event-2015-leadership-series-live-best-practices-in-managing-absence-in-call-centers-2/.
---

If you like this comic and would like to see more, write Ozzie at callcentercomics@yahoo.com and visit his website at http://callcentercomics.com/cartoon_categories.htm or just click on the comic to take you to his page. The NACC appreciates Ozzie letting us use some of his comics in our newsletter.
---
To view past issues of In Queue, please click here.

If you would like to contribute to In Queue, please reply to this email with "Contribute" in the subject line.
Copyright 2015 National Association of Call Centers